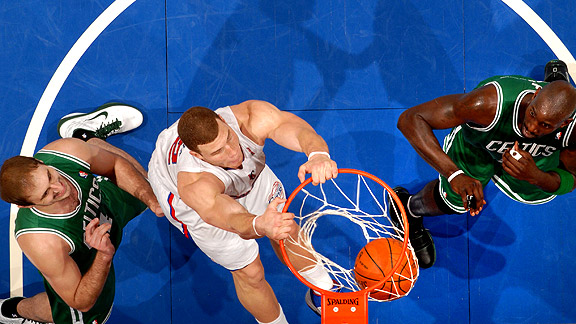 Andrew D. Bernstein/NBAE/Getty Images
Nenad Krstic (left) and Kevin Garnett (right) are going to have to develop chemistry on the fly.LOS ANGELES -- The Celtics have used only eight different starting lineup combinations this season, but when newly acquired Nenad Krstic took the opening tip Saturday night against the Los Angeles Clippers, he became the fifth different starting center utilized by Boston this season.
Given Boston's focus on being vocal and their philosophies on help defense, it's not always an easy transition for a newcomer and Kevin Garnett acknowledged that he and Krstic will have to work in the coming days to acquire that chemistry if he's going to hold down that starting role until Shaquille O'Neal can get healthy.
"It's just like [Kendrick Perkins] and my first day [together]," said Garnett. "It's got to be something that both sides want to do and Krstic is open, man. I had a long talk with him [Saturday] when we had shootaround, and just trying to get into his head, teaching him all the schemes and different things. I just need someone to be verbal. I just need someone to communicate. You don't necessarily [have to] be the loudest, but we need you to know how to communicate and he did a good job of that tonight.
"[Krstic and Jeff Green are] open guys. First thing is you have to be open, too. Obviously, they're used to a certain something and, obviously, we tend to think we do things a little different here. The winning ways, we're professional at all times, so a lot of the stuff that we do, a lot of the stuff that we are the examples of, so they'll see it versus hearing it more than anything."
And the newcomers will quickly learn its defense first around here.
"[Defense is] the whole key for us," said Celtics coach Doc Rivers. "They'll get it. It might take some time and they'll make mistakes on defense, but that's why we'll have [assistant coach] Lawrence [Frank] met with them [Saturday], then do it again [Sunday] with just them. Defense has to go first."