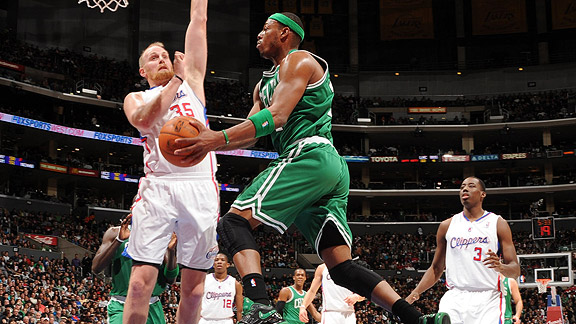 Andrew D. Bernstein/NBAE/Getty Images
Paul Pierce attacked the basket throughout Saturday's game against the Clippers.Paul Pierce and the free throw line haven't exactly been strangers over the course of his 13-year NBA career. As if the charity stripe were a favorite restaurant or vacation spot, Pierce has always made an effort to just keep going back for more. The Celtics' captain has taken 7,062 free throw attempts over the course of his NBA lifespan, making 5,675 of those, good for an 80.4 percent clip.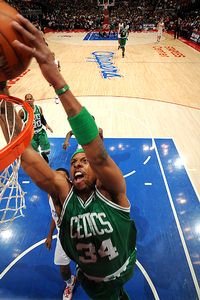 Andrew D. Bernstein/NBAE/Getty
Paul Pierce goes at the rim.Against the Clippers on Saturday night, Pierce tied season-highs in free throws made (11) and attempted (13) as he brushed off a 6-of-14 shooting performance, finishing with 24 points that helped spark the Celtics to a 99-92 victory at the Staples Center.
A sluggish first half devoid of intensity earned the Celtics a seven-point halftime deficit, and, like so many times before, they looked to Pierce to turn things around. Pierce registered eight points in the first half, but like so many of his teammates, he failed to make at least half of his first half shots, finishing the first 24 minutes on 2-of-5 shooting. As a team, the Celtics shot a horrendous 34.3 percent from the floor in the opening half.
Pierce's first half output was bolstered somewhat by a 4-of-4 performance at the free throw line, and he concentrated his efforts on attacking the basket and getting back to the stripe in the third quarter. Pierce's seemingly innate ability to draw fouls on opponents is one thing, but his superior physical gifts that allow him to still convert shots after drawing contact have always set him apart.
Less than 30 seconds into the third frame on Saturday night, Pierce once again put those physical gifts on display, as, in a mismatch with Clipper big man DeAndre Jordan, he faced up for a short jump shot on the left wing, absorbed a blow to his arm, and still managed to put the ball in the bucket, good for an attempt at an old-fashioned three-point play. Pierce converted the free throw, and in the blink of an eye, the Celtics' seven-point hurdle was down to just four.
Three minutes later, after Ray Allen swiped the ball from Clippers rookie Blake Griffin, Pierce received a pass from Rajon Rondo in transition and streaked inside for a layup, bringing the Celtics to within three.
After missing a 3-pointer with just over six minutes to play in the third, Pierce attacked the rim with an even greater ferocity, taking advantage of what will surely go down as a mismatch with Los Angeles forward Al-Farouq Aminu. A bad pass from Aminu was intercepted by Allen, who fed Pierce, who immediately drove to the basket along the right side and was fouled by none other than Aminu. Pierce knocked down both free throws.
On the Clippers' next possession, Pierce swarmed Aminu in the left corner, forcing the ball out of bounds off the Clipper forward and creating an extra possession for Boston. On the ensuing play, it was Pierce again, this time going at the rim from the left side against Aminu, who was helpless and once again had to foul Pierce. Pierce buried two more freebies, capping off what can be classified as a rough 41 seconds for Aminu.
Pierce's free throws topped off a 20-6 Celtics run that resulted in them holding a 60-53 advantage.
Pierce's dominance over Aminu in the quarter wasn't quite complete yet, as he drew a third foul on him minutes later, prompting Clippers coach Vinny Del Negro to insert old friend Ryan Gomes at the small forward spot. Aminu retreated to the bench as Pierce knocked down one of his two free throw attempts, giving Boston a 65-57 edge. Having already scored 10 points in the third frame, Pierce switched over to the role of distributor, and, with less
than a minute left, tossed Celtic newcomer Jeff Green a long pass in transition, which Green caught and converted into a layup following an upfake on two Clippers.
Los Angeles embarked on a quick 5-0 spurt of its own to close the gap back to four, but in a move that halted the Clippers' momentum and kept the Celtics rolling, Pierce took a pass from Delonte West along the right side and tossed in a running floater as the third quarter buzzer went off, giving Boston a 74-68 advantage heading into the final frame. Pierce finished the third frame with 12 points, with six coming at the free throw line. His seven attempts from the stripe in the third quarter alone surpassed his season average of 5.24 attempts per game.
"That's Paul," Celtics coach Doc Rivers said. "I told him at halftime, I said, 'Paul, you're our guy tonight.' You could see it. I said, 'You've got the best matchup on the floor and we've done nothing about it.' I said, 'We've got to get into the offense, but you've got to be our guy in the second half.' Fortunately, he's good enough to do something about it. I could tell that to a lot of guys and nothing still happens, but Paul's good enough to do something."
Pierce's determination to get to the line proved contagious, as the Celtics as a team shot a season-high 41 free throw attempts, marking the first time they've shot at least 40 this season. Allen and Kevin Garnett shot a combined 13-of-13 themselves, and the bench trio of Delonte West, Glen Davis, and Green converted eight of 11 attempts. Overall, Boston made 35 of its 41 attempts, good for a figure of 85.4 percent.
"Paul had a rhythm, you know? He never looked back, he was aggressive early," said Garnett. "Every night, night in, night out, it's going to be one of us, somebody. If it's not [Rondo], Ray, myself, Paul, or even [Glen Davis], or whoever, Shaq, whoever. We came out aggressive and just followed his lead. I thought second half Doc did a lot more play calling for him and getting plays where we were going through him offensively. He made the right decisions and he was aggressive and got into the penalty early. Once we got the running game going, got some stops, it was pretty much over."
Greg Payne is a student intern for ESPNBoston.com