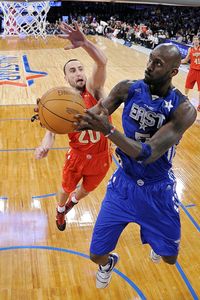 AP Photo/Mark J. Terrill
It's been a tough week since the All-Star game for Kevin Garnett.On his ANTA blog, Kevin Garnett recaps the first three games of Boston's road trip, including his thoughts on the trade deadline deals that sent five teammates out of town. Here's the good stuff:
This was a hard trip for me. We found out the day of our game that we traded my defensive partner and teammates, Kendrick Perkins, Nate Robinson, Semih Erden and Luke Harangody. It was crazy. I found out just minutes before I left for the arena. It was crazy that we only had 8 for our game in Denver, so Chris Johnson (was with us during training camp) got called up and we tried to fit him in.

Game was tough and the oxygen levels were tough. Denver always reminds a player what it's like to play high above see level. We came out strong and were fighting hard. Chris Johnson played hard and was very active. We ran out of gas and lost to the Nuggets. Guys got chippy during the game and it was very physical. That night, we spent some time with Perk and got to give him a send off. We'll miss him and we feel like we lost a family member.
Read on for the full entry, or click HERE to visit the ANTA website.
Full text from KG's latest blog:
It's been a tough couple of days after the All Star game, but I'll recap our West Coast trip:

Golden State was first. We landed in Oakland, CA and drove up to San Fran after the All-Star Game. It was nice to get in a day early and just chill before practice. I woke up and met Paul and BDoo to workout. Needed the lift to get my body going. Team started showing up around 3pm. We had practice at 5pm and it went well. Guy's energy was high and it was good to get a good sweat and run through things we needed to work on.

Golden State was our first game of our 4 game road trip. Rondo was the man. He led us with amazing energy and attacked at every moment. We lost focus in the 2nd quarter, but took over in the 3rd. It was the first time we won in Golden State in over 6 years. I've only been here for 4 seasons, so I've get to beat them in San Fran.

Great feeling to win and the guys saw what our potential is.

Next stop, Denver, CO. This was a hard trip for me. We found out the day of our game that we traded my defensive partner and teammates, Kendrick Perkins, Nate Robinson, Semih Erden and Luke Harangody. It was crazy. I found out just minutes before I left for the arena. It was crazy that we only had 8 for our game in Denver, so Chris Johnson (was with us during training camp) got called up and we tried to fit him in.

Game was tough and the oxygen levels were tough. Denver always reminds a player what it's like to play high above see level. We came out strong and were fighting hard. Chris Johnson played hard and was very active. We ran out of gas and lost to the Nuggets. Guys got chippy during the game and it was very physical. That night, we spent some time with Perk and got to give him a send off. We'll miss him and we feel like we lost a family member.

The next day we got to the airport at 10:30am and were headed to LA. Having a house in Cali, makes it good to get in early. Problem was that we just sat on the runway for 2 hrs due to weather and airplane problems. We finally took off and landed at 3:30pm Cali time. Perfect landing time for me to sit in MAJOR TRAFFIC on my way to the crib. At least, I'm home and will get to sleep in my bed.

Clips tonight and the Young Rook (Blake Griffin) was interesting to watch. He's got some major upside and I enjoyed his intensity. We also met our 2 new teammates in Jeff Green and Nened Kristic. It will be interesting to see if they can mesh with us and I'm sure they can help us. It gives us depth and some space, but they are not Perk. I know that they won't be Perk, but they are my new teammates, so I welcome them with open arms and look forward to playing with them.

We came out lazy and going through the motions, but then sat in halftime and tried to figure out what was going on. 3rd quarter came and we started pressuring them and moved the ball. Jeff and [Nenad] played well and brought good energy and skill to the game. We've got a bunch of guys that are new, so it's tough to run various sets. The clips battled all night with us, but our starters ran our sets and got the job done. DWest gave us some good energy and Paul and Ray hit shots.

One more game on this trip and that is Utah. Night at the crib and then flight in the morning. Hope you all are doing well and are following us. We have 1 1/2 months left of the regular season and then the playoffs. Hopefully, we'll get healthy and our guys will start to understand each other's games.

Reach Higher and Keep cheering

KG