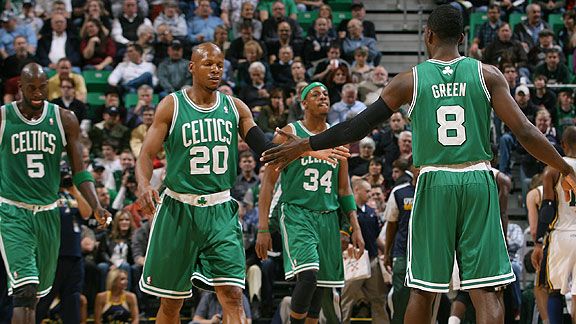 Melissa Majchrzak/NBAE/Getty Images
It took a team effort for Boston to topple Utah on Monday night.Rapid reaction after the Boston Celtics defeated the Utah Jazz 107-102 Monday night at EnergySolutions Arena in Salt Lake City:
--YOU CAN'T GET THESE GUYS ON THE BUYOUT SCRAP HEAP--
For all the consternation about whom the Celtics might be able to add to their roster following the rash of recent buyouts, it was a familiar five of Rajon Rondo, Paul Pierce, Ray Allen, Kevin Garnett and Glen Davis that carried Boston to the finish line of a four-game road trip.
Each player had his moments (yes, even Davis whose ill-timed fouls kept Utah in the game longer than necessary) and you'd be hard pressed to pick a single hero among the bunch. Allen might top the nominees, however, as he scored eight points over the final 4:18, hitting a pair of clutch 3-pointers and adding a ridiculous floating, off-balance 23-footer with 53 seconds to go to keep Utah at arm's length.
"[Allen] just makes shots and because we're so unselfish, our guy finds him," Celtics coach Doc Rivers told reporters in Utah. "It's just amazing. But he bailed us out. He really did. He made a couple big shots for us. The one down the stretch on [Andrei] Kirilenko, we completely blew the play and they got the ball to Ray and he made a shot for us."
Rondo fueled a frenetic offense -- logging 42 minutes with reserve guard Delonte West sidelined with a sprained ankle -- and drilled a 15-foot elbow jumper with 24 seconds remaining that essentially sealed the win by putting the Celtics ahead by four.
Allen finished with a team-high 25 points on 9-of-15 shooting, including 5-of-8 from beyond the arc, with four rebounds and two steals over 36:41. Rondo chipped in 18 points on 9-of-16 shooting with 11 assists.
Pierce and Garnett? They weren't too shabby themselves. Pierce made all 11 free throws he attempted, once again doing a phenomenal job getting to the line, in contributing 21 points, 7 rebounds and 4 assists over 38 minutes. Garnett produced his latest double-double with 16 points and 14 rebounds over 35 minutes (and was a team-best plus-14 in the plus/minus).
--A VERY GOOD EARLY TIMEOUT--
Rivers isn't one to call an early timeout to try to stem an opponent's momentum. In fact, he's more likely to let his team work out the kinks on the floor, but after the Jazz ripped off 10 of the game's first 12 points, Rivers brought in his troops for a quick confab.
Boston responded by embarking on a 12-0 run, then ripped off another 13-0 spurt a short time later to help build a nine-point lead after one quarter. To Utah's credit, it roared right back and made things interesting until the finish line and Rivers commended the Jazz for their ability to play in the face of recent adversity.
"I thought [Utah] really battled," Rivers told reporters. "They're hanging in there. We're going through a lot, [but] they're going through more. When you have the coaching change [longtime coach Jerry Sloan resigned] and a trade of their premiere player [Deron Williams], that team is going through a lot of stuff right now, on and off the floor. [It's] very difficult to have any focus and yet they had it. I thought they executed well. We just won the game."
--PERK WHO? KRSTIC AN OFFENSIVE FORCE EARLY--
Settle down, Kendrick Perkins loyalists, we're just trying to get a rise out of you with that headline. While Nenad Krstic isn't nearly the defensive presence Perkins was in Boston, he's proven to be a nice offensive contributor in his first two games.
After setting a Celtics season high with six offensive rebounds in his Boston debut Saturday against the Clippers, Krstic poured in 10 first-quarter points Monday to fuel the early offense.
The highlight of his night? Krstic poked the ball loose from a Utah ball-handler above the 3-point arc on the Jazz end of the floor, then ran the other way with Rondo, slamming down an alley-oop lob at the other end.
Krstic finished with 11 points and five rebounds over 29:49.
--BRADLEY MAKES MOST OF OPPORTUNITY--
With West sidelined by that sprained right ankle, rookie Avery Bradley got some extended early action and responded with his most aggressive performance of his career.
Bradley, who has played sparingly even after being summonsed from the Maine Red Claws of the NBA Development League earlier this month, knocked down a 21-foot jumper for the first basket of the second quarter, then after an Al Jefferson make, outraced everyone down the court before leaning into Derrick Favors to draw a foul while converting a layup.
Bradley finished with four points on a mere 2-of-6 shooting -- missing his last three shots -- but Boston has to like that sort of aggressiveness off the pine. What's more, Bradley was active on the defensive end, showing why the Celtics were happy to hang on to their first-round pick (19th overall) from June's draft amid all the activity at the deadline.
--LOOSE BALLS: GREEN EXPERIMENT; TOUGH NIGHT FOR BABY--
* The Green Experiment continued for Rivers, who is moving newly acquired Jeff Green all over the floor and into different lineups, trying to figure out where he'll fit best. Green connected on just 2-of-6 shots for five points with two rebounds and a highlight-worthy block over 19:26.
* The Celtics dressed 10 bodies, but ran with what amounted to a seven-man rotation. Von Wafer, Chris Johnson and Bradley combined to log only 11:27 of action, all of which came in the first half.
* It was a rough night for Davis, who hit only 2-of-8 shots for seven points with a team-high four turnovers (matched by Rondo) over 27:27. He chipped in four rebounds, a steal and a block, but five troubles hurt his cause.
*Jefferson bounced back nicely from a putrid effort in Boston during the teams' first meeting of the season. Boston's former first-round pick poured in 28 points on 11-of-21 shooting, while grabbing a season-high 19 rebounds. He also blocked two shots and got a double technical with Garnett for jawing and jostling in the fourth quarter.