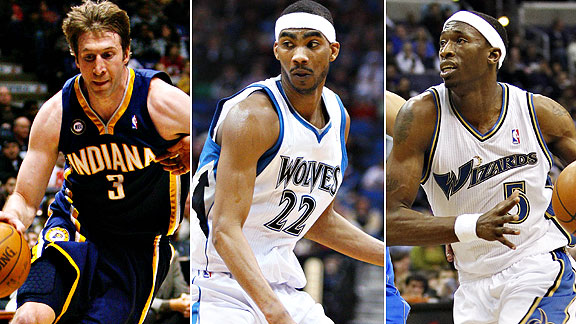 US Presswire
There's some familiar names emerging in the buyout market.After clearing room on their roster at last week's trade deadline, the Boston Celtics are shopping for buyout deals. So who's on their radar? Peter May examines:
--MAY: THRIFT SHOPPING WITH THE CELTICS--
Troy Murphy has appeared in 639 games over 10 seasons, including a mere 18 in 2010-11. He last set foot on an NBA floor on Jan. 7, when he logged 11 minutes for the New Jersey Nets in a 97-77 loss at Washington. But he is in demand these days. When Murphy clears waivers on Wednesday, he will sign with a team that gives him the opportunity to do something he has never done: participate in an actual NBA playoff game. Yes, 10 years after being drafted No. 14 out of Notre Dame, Murphy will finally end his playoff drought. The only remaining question: where?
May examined all potential buyout candidates, including Jared Jeffries, Rasual Butler, Jason Kapono, Josh Howard, Tayshaun Prince, Samuel Dalembert, Mike Bibby, Corey Brewer, Leon Powe, Dan Gadzuric, Vladimir Radmanovic, and Sasha Pavlovic.