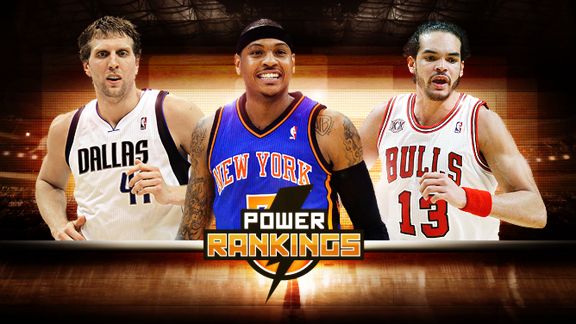 ESPN Illustration
The Celtics are stuck behind two of these three teams (sorry, Carmelo) in the latest rankings.The Boston Celtics hold steady at No. 4 in this week's ESPN NBA power rankings, one spot behind the Chicago Bulls (and still trailing the Spurs and Mavericks).
To be fair, three of Boston's losses have come against those three teams, but the Celtics are 3-1 against the Bulls and Spurs thus far (0-2 vs. Dallas). Writes curator Marc Stein: "I know, I know: Ainge is a gambler, and re-signing Perk would have been expensive, and Boston has badly needed a 3/4 since Posey left. None of it stops me from saying Boston's trade was more surprising than Utah's."
In John Hollinger's computerized power rankings, the Celtics find themselves at No. 4, pinned behind the Spurs, Heat, and Bulls. A mediocre 6-4 mark over their last 10 games is working against Boston (even if the Celtics are coming off a very successful 3-1 west coast, post-All-Star road trip.
Over at NBA.com, the Celtics have dipped to No. 4 as well, sitting behind the Spurs, Mavs, and Bulls. Writes curator John Schuhmann, "It isn't quite the fall-off that they had last year, but the Celtics are now 19-11 since Christmas (tied for eighth best in the league). With a relatively easy March schedule and a two-game edge in the loss column over both Chicago and Miami, they may just hold on to that No. 1 spot in the East."