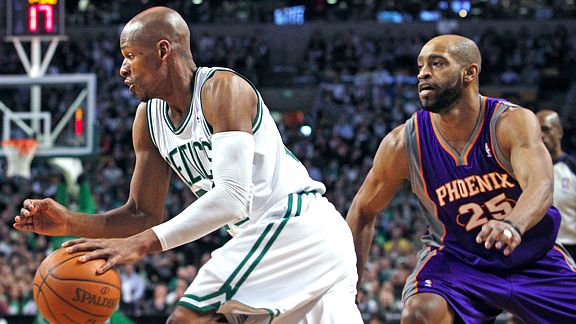 AP Photo/Elise Amendola
It took longer than it should have, but Ray Allen and the Celtics left the Suns in their wake.BOSTON -- Rapid reaction after the Boston Celtics defeated the Phoenix Suns 115-103 Wednesday night at TD Garden:


HOW THE GAME WAS WON
An inspired Kevin Garnett appeared to take out some lingering frustration against Channing Frye, erupting for a game-high 28 points on 12-of-14 shooting, scoring all his points over the first three quarters as Boston built a 29-point lead. Things weren't as comfortable in the fourth quarter, but Boston hung on by placing six players (the entire starting five and Glen Davis) in double figures.
TURNING POINT
Leaning on a bigger lineup featuring Rajon Rondo, Paul Pierce, Jeff Green, Garnett and Davis to close out the first quarter, Boston turned a three-point lead into an 11-point cushion. But it was the start of the second quarter, with a second-unit lineup, where the Celtics really motored away. Davis produced a dunk, rookie Avery Bradley canned a 16-foot jumper, and Green made a driving layup for a 38-21 cushion little more than a minute in. The lead grew to 20 by intermission.
STAT OF THE GAME
The Celtics absolutely dominated the points in the paint while building their big lead, holding a 36-8 advantage in the first half. The Suns trimmed it a bit by game's end (52-26) while making a fourth-quarter charge.
UNSUNG HERO
Pierce continues to find ways to make good things happen. Even when he struggled with his shot the previous three games, he got to the foul line and piled up points there. On Wednesday, his shots were falling (6-of-9, making everything inside the arc, for 16 points), allowing him to focus on rebounding and he hauled in a team-high 13 boards. Pierce also produced the "SportsCenter" moment of the night with a jaw-dropping left-handed jam over Frye in transition (even if he drew a technical in the aftermath that included staring down Frye).
WHAT IT MEANS
For a time, it seemed the Celtics' newcomers would get a glimpse of Gino in their first tilt at the Garden. Alas, the Suns spoiled the fourth-quarter dance party as Boston let the visitors back into the game. Regardless, the Celtics won their third straight, atoning for an ugly loss in Phoenix last month.