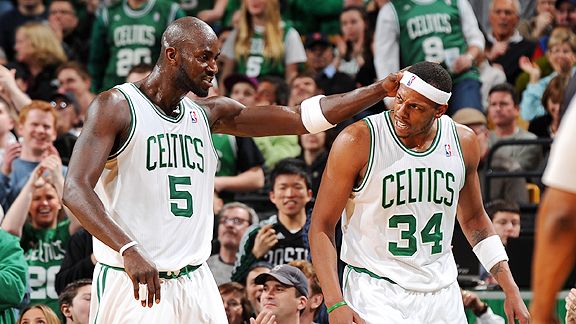 Brian Babineau/NBAE via Getty Images
Kevin Garnett delivers a friendly blow to the back of Paul Pierce's head.BOSTON -- Everything you need to know after the Boston Celtics defeated the Phoenix Suns 115-103 Wednesday night at the TD Garden:
Rapid Reaction | Game Recap | Box Score
--FORSBERG: KG'S FIRE BURNS SUNS IN REMATCH--
Try as he might to ignore it, Kevin Garnett reached his boiling point late in Wednesday's game when, according to multiple Celtics, Gentry injected himself into verbal warfare from the bench, directing his venom at Garnett. Garnett got tagged with a technical foul for barking back with 16.2 seconds remaining. He played coy afterward, but took a not-so-veiled shot at Gentry and Co. when asked about the tech. "Oh, Alvin Gentry was asking me for tickets for the first round of the playoffs and I told him I'd hook him up," Garnett said.
--MAY: C'S ARE FINALLY SET WITH LATEST MOVES--
Here's who left: Kendrick Perkins, Nate Robinson, Semih Erden, Luke Harangody and Marquis Daniels. At the trade deadline, only two of those guys were poised to play any significant minutes in the playoffs; and, with Robinson's, er, quirkiness, you could make a case that only one player -- Perkins -- fit that category. Here's who arrived: Nenad Krstic, Jeff Green, Troy Murphy and Sasha Pavlovic. All of those players are likely to see minutes in the postseason. If this were one jumbo deal, it would be classified as an outright heist.