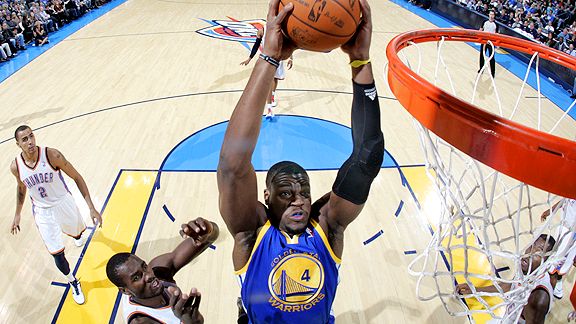 Layne Murdoch/NBAE/Getty Images
Jeff Adrien skies towards the rim as a member of the Golden State Warriors.Former Brookline High School standout Jeff Adrien returns to the TD Garden Friday night as a member of the Golden State Warriors. In town a day early, Adrien visited his old stomping grounds Thursday. From ESPNBoston.com's Brendan Hall:
Jeff Adrien touched down at Logan Airport 1:30 a.m. Thursday morning, and there was no jet lag from the west coast. Not when it's coming home to Boston.

"It's definitely great to be home, definitely not lagging," said the former Brookline High star and newly minted Golden State Warrior [Thursday] morning from inside the school's Schluntz Gymnasium, on the eve of Golden State's game with the Celtics [Friday] night at the TD Garden.

Adrien made the Warriors' final roster cut to start the season, but was sent to the D-League after 15 games to make room for point guard Acie Law. With Rio Grande Valley Vipers, Adrien dominated, averaging 18 points and 11 rebounds before getting called back to Golden State last week following the trade of Brandan Wright and Dan Gadzuric to the New Jersey Nets.

He was back at his alma mater [Thursday] morning, speaking to a quarter-filled gymnasium of Brookline students for a Q&A session. Adrien, of course, led Brookline through one of its most successful runs in school history before moving on to a storied career at UConn, twice taking the Warriors to the Division 1 state finals (2002, 2004).
Click HERE to read the full story.