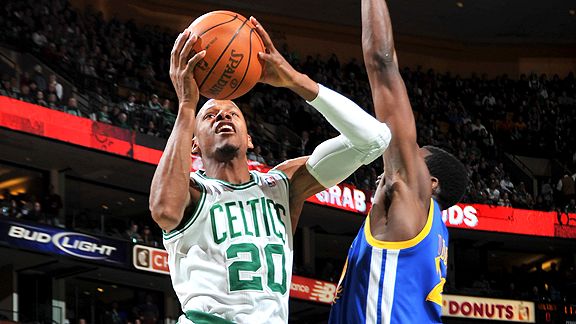 Brian Babineau/NBAE/Getty Images
Ray Allen sat out practice Thursday, then did some heavy lifting Friday vs. Golden State.BOSTON -- Rapid reaction after the Boston Celtics defeated the Golden State Warriors 107-103 Friday night at the TD Garden:


HOW THE GAME WAS WON
Celtics captain Paul Pierce scored 20 of his team-high 27 points in the second half and made a pair of key late-game buckets as Boston fended off another furious rally to emerge with a narrow win. Ray Allen, who sat out Thursday's practice session with sore legs, provided a symmetrical effort to Pierce's output, matching his 27-point night, but scored 20 of his points in the first half (hitting 7-of-8 shots, including all four 3-pointers he attempted). Jeff Green added 21 points off the bench, while Rajon Rondo handed out 16 assists over a team-high 42 minutes. Monta Ellis paced Golden State with a game-high 41 points.
TURNING POINT
The Celtics' lead ballooned as high as 18 in the third quarter, but Pierce made sure this one didn't slip away. Nursing a one-point lead with under three minutes to play, Pierce drew a foul on Reggie Williams while attempting a 14-foot baseline jumper and added the free throw for a four-point cushion. Shortly after, Rondo squeeze a bullet bounce pass to a cutting Pierce for a layup that provided the winning points with 1:31 to go.
STAT OF THE GAME
The Warriors dominated the glass, finishing with a 39-28 rebounding advantage. What's more, Golden State boasted a 46-44 edge in points int he paint (a category Boston typically thrives on).
UNSUNG HERO
Before suffering a strained right calf that chased him from the game, Von Wafer turned in five quality minutes, hitting 3-of-4 shots for seven points. He was the only bench player other than Green to score in Friday's game.
WHAT IT MEANS
The Celtics sometimes seem like they don't want Gino to dance on the JumboTron, letting yet another monster second-half lead slip away. Regardless, Boston has won four straight and has some practice days on the horizon with only one game (Sunday's visit to Milwaukee) over the next four days. Shorthanded because of injuries, Pierce and Allen put the team on their back in this one.