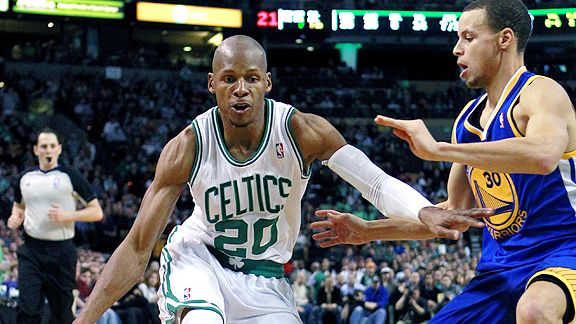 AP Photo/Michael Dwyer
Ray Allen battled through the pain of a sore right knee.Ray Allen had a sore right knee heading into Friday's game against the Golden State Warriors, but that didn't stop him from leading the Boston Celtics to a win. Then again, what really can?
--ALLEN WON'T LET AILING KNEE SLOW HIM DOWN--
Ray Allen doesn't like the notion of ruling himself out for a game too far in advance. But he admitted Friday to picking out one of his finer-looking suits before heading to the arena because the thought crossed his mind that, for the first time this season, he might be wearing business attire on the Boston Celtics bench. After sitting out Thursday's practice with a sore right knee, Allen said it wasn't until he went through his pregame routine that he was confident he'd be able to lace up his high tops against the Golden State Warriors. But not only did he dress, Allen hit seven of his first eight shots, pouring in 20 first-half points to pace Boston to a sizable lead that it clung to while emerging with a 107-103 triumph at the TD Garden.
For more from Allen, check out the postgame video below: