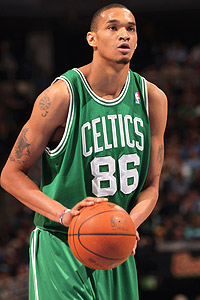 Doug Pensinger/Getty Images
Chris Johnson did enough to stick around, but the Celtics are in search of point guard help.Chris Johnson, signed out of the NBA Development League to a 10-day contract last Thursday with Boston in desperate need of big bodies, was informed Saturday that he will not be re-signed by the club and the Celtics will instead pursue a backup point guard to help drive down minutes for Rajon Rondo before the playoffs arrive.
Celtics coach Doc Rivers, who on Friday night indicated the team would likely re-sign Johnson, said near the end of Saturday's session that he was uncertain if Johnson would make the trip to Milwaukee as the team was looking for ball-handling help.
"Honestly, we're trying to sign a point guard," said Rivers. "If we can sign a point guard, we're going to lose C.J., but if we can't sign a point guard, we'll keep him."
The team must be confident in that pursuit as, soon after, Johnson confirmed that he had been informed the team would not re-sign him to a second 10-day deal. He said he's not disappointed and enjoyed his time in Boston, but it's back to Dakota of the D-League for the lanky center.
"I worked hard, did whatever I could do in 10 days," said Johnson, who saw limited action after a brilliant debut in Denver for a shorthanded Celtics squad that made three moves and traded away five players (including two centers) at the deadline. "Everybody saw I work hard and I felt like I left a mark."
The Celtics wouldn't mind crossing paths with Johnson down the road, particularly if he can add muscle mass to his frame. But they were brutally honest about their needs moving forward.
"They just want a guard to give Rondo some rest, especially with [Delonte West] hurt," said Johnson.
West, who has missed the last three games due to an ankle injury suffered last Sunday, watched Saturday's session from the sideline. Rivers had pegged a potential Wednesday return for West, but they'll wait and see how he's progressing before rushing him back out.
Rondo is averaging 40.2 minutes per contest over Boston's last 10 games, a sizable uptick over the 37.9 he's averaged for the season. With Friday's frenetic pace, Rondo even took himself out briefly in the second half against the Golden State Warriors but ultimately logged a team-high 42 minutes. Rivers admitted after the game he needs to drive those minutes down.
"The guy I've got to keep down more is Rondo," he said. "Even though he's young, he's still playing too many minutes the last four or five games. With Delonte [West] out, that's put a lot of stress on us as well."
The Celtics won't find an overwhelming assortment of available ball-handlers on the free-agent market, but one intriguing (and obvious) possibility is Carlos Arroyo, the point guard jettisoned by the rival Miami Heat earlier this week to make room for bought out Mike Bibby. Arroyo averaged 5.6 points and 2 assists per game in 49 appearances with the Heat, starting 42 games before falling out of favor.