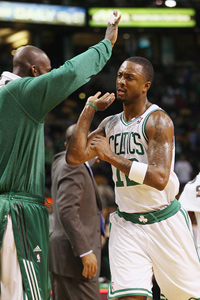 Elsa/Getty Images
Doc Rivers doesn't expect Von Wafer back on the court any time soon.BOSTON -- Celtics reserve swingman Von Wafer shed his walking boot Wednesday and said he's hopeful he won't be sidelined too long, but coach Doc Rivers wasn't nearly as optimistic, suggesting Wafer could be out two to three weeks -- and potentially longer -- due to a sprained right calf suffered in Friday's win over the Golden State Warriors.
"Von's going to be out for a while," said Rivers. "It's not torn, I don't know what the actual injury is, but he's going to be out for quite a while."
Pressed if that meant potentially the rest of the regular season, Rivers added: "No, he'll return. But it'll be two weeks, maybe three. Maybe longer."
Wafer hobbled around the locker room, but expressed a desire to get back on the court as quick as possible. With Boston so shorthanded, he knows he's missing an opportunity for increased playing time. But Wafer said he's trying not to let an ill-timed injury eat at him.
"I don't even think about it; It is what it is," he said, giving the Belichick-tradedmarked phrase an exaggerated drawl. "I can't even think about what-ifs. It probably wouldn't do anything but make me upset."
Rivers suggested that Glen Davis (left patella tendon strain) would likely be the first of Boston's five injured bodies back on the court, with Delonte West (sprained right ankle) following soon after. Davis has missed the last two games after tweaking an ailing knee last Wednesday against the Phoenix Suns and is expected to miss two more games, but will practice Saturday with eyes towards returning as early as Sunday's visit from Milwaukee.
West has missed the last four games and has yet to return to practice, but Rivers noted previously that he'd throw West right back into the fire as soon as he's healthy enough.
Shaquille O'Neal (right foot injuries) gave a timeline Monday that could put him back on the court as early as next Wednesday's visit from the Indiana Pacers. Jermaine O'Neal (left knee surgery) had been pegged for a late March/early April return, but hasn't addressed the media since going under the knife last month.
Rivers said Wednesday that he'll throw newly acquired point guard Carlos Arroyo right into the fire Wednesday night against the Los Angeles Clippers.
"Oh, I'm going to use him," said Rivers. "Look at our team right now, we have four starters that have been here, then everyone else is new and a rookie. So they'll all have to play. It's a tough team because the Clippers have size. Most of our size is out. So foul trouble is a major concern. We basically have [starters] Nenad [Krstic] and Kevin [Garnett], then after that, we get small quick."