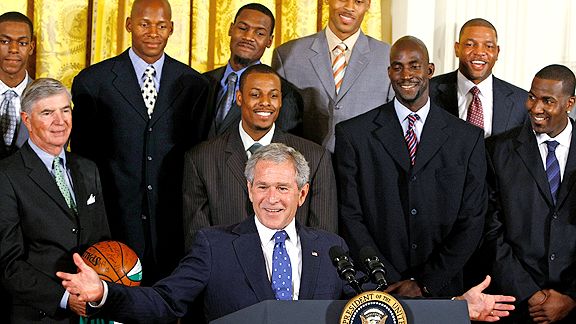 Chip Somodevilla/Getty Images
The Celtics met President Bush after winning a world title in 2008.BOSTON -- Having already met two presidents over the course of his 15-year NBA career didn't make Celtics guard Ray Allen any less nervous when it came time to meet Barack Obama on Tuesday.
Knowing his time with the leader of the country would be somewhat brief as members of the Celtics mingled with President Obama before a fundraiser at the Museum of Fine Arts, Allen's chief decision revolved around what he would say to Obama. Rather than lead with a question or comment about the economy or some of the current issues in the Middle East, Allen decided to keep things simple.
"I asked a couple friends of mine what [I should] ask him," said Allen. "You know people, everybody wants to ask what's going on in Libya, what's going on all over the world. You want to ask the president that. But I think whenever you're in the company of somebody like that you just say, 'Pleasure to meet you.' You don't want to extend yourself too far, especially when you've got five, six minutes tops with him. For all of us, any time you meet the president at any stage of your life, it's always a great honor."
For Allen, it was his third time experiencing such an honor. He met George W. Bush following the Celtics' 17th championship at the customary meet-and-greet held at the White House in September of 2008. He also crossed paths with the 42nd president, Bill Clinton, during a tour of the White House back when he was a member of the Milwaukee Bucks. (Coincidentally, Allen's alma mater, the University of Connecticut, took home the men's basketball national championship that same year, and sent Clinton a commemorative championship ring.)
During the Oval Office portion of the tour, Allen caught sight of the ring and picked it up off Clinton's desk to admire it, just as Clinton entered the room. Allen laughed at a reporter's suggestion that he was thumbing through the president's desk.
"I was. I was. But that was like, 'He caught me,'" Allen joked. "I picked it up and he walked in and then I was looking at it, I was like, 'That's a nice little ring you've got on your desk right there.'"
Already being acquainted with Presidents Clinton and Bush didn't take any of the thrill away from meeting Obama for Allen, who attended Obama's inauguration back in January of 2009. Allen said the novelty of meeting a president is one that never wears off.
"No, it never [gets old]," Allen said. "It helps perspective a little bit, like kind of how people view us. People who watch us all the time and people who follow everything we may say or everything we may do and that's pretty much the president for everybody around the world."
"You see him and TV has a way of making you look either bigger than what you really are and every time I was talking about my encounter with him [Tuesday], everybody was like, 'That's how people look at you,' and it was like, 'I never really thought of it like that.' But it does help perspective... That's why when you say and do things you've got to make sure that you're very accountable in the words you use because people do take to heart what you say."
The subject did steer towards basketball at one point, and Obama, a self-proclaimed basketball aficionado and Chicago Bulls fan, surprised Allen with how up-to-date he is on the daily happenings of the NBA.
"First, I was amused that he knew who I was," Allen admitted. "You figure he's got bigger fish to fry, but he's following what we do...He asked me, how do I stay up with all of these young guys? And so, he definitely knows the game. He watches the game, he follows it, and it's interesting."
Obama also aimed a lighthearted joke at Kevin Garnett, who sports a crusty relationship with Bulls center Joakim Noah.
"You've got to ask Kevin, he kind of jabbed Kevin about throwing out elbows at his guys, meaning the Chicago Bulls," Allen said of Garnett, who has drawn criticism this season for some of his on-court behavior. "Kevin had to answer that question from the president of the United States."
Garnett responded to Obama's remark, but Allen would not disclose any details.
"You'll have to ask him. You'll have to ask him what he said," Allen responded. "I was like, 'Yup, he's watching, Kevin. He's watching.'"
Greg Payne is a student intern for ESPNBoston.com