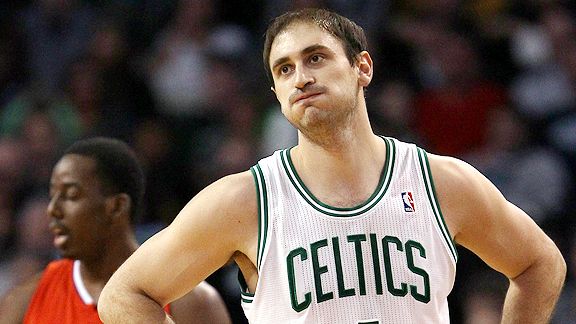 Elsa/Getty Images
Nenad Krstic and the Celtics stopped Blake Griffin... they didn't stop his teammates.BOSTON -- Everything you need to know after the Los Angeles Clippers defeated the Boston Celtics 108-103 Wednesday night at the TD Garden:
Rapid Reaction | Game Recap | Box Score
--MacMULLAN: TAMING BLAKE DOESN'T HELP C'S--
I feel like someone stole my wallet. I'm pretty sure the Boston Celtics' schedule tucked inside the wallet specifically stated the Los Angeles Clippers were on the docket on Wednesday night. My plan was to fire up my laptop, sit back and prepare to be dunkified. Imagine my surprise (and dismay) when the Blakers tucked it to the Green -- and the league's most entertaining asset, Blake Griffin, had practically nothing to do with it.
--FORSBERG: KRSTIC A THROW-IN? NOT FOR CELTICS--
Fair or not, Nenad Krstic came to Boston with the label of "throw-in" after the blockbuster deadline swap between the Celtics and Thunder. That much was obvious when the shortened version of the trade was referred to as "Perkins for Green." The insinuation being, of course, that Kendrick Perkins and Jeff Green were the key assets exchanged, relegating Nate Robinson and Krstic (along with the future first-round pick the Celtics obtained from Oklahoma City) as mere supplemental parts, the filler that made the trade work under the NBA's salary parameters. In so many words, Krstic will admit that the throw-in suggestion bothers him. He was, after all, a player who started 47 games for a top-tier team in the rigid Western Conference.
--PAYNE: ALLEN HAILS TO THE CHIEF ... AGAIN--
Having already met two presidents over the course of his 15-year NBA career didn't make Celtics guard Ray Allen any less nervous when it came time to meet Barack Obama on Tuesday. Knowing his time with the leader of the country would be somewhat brief as members of the Celtics mingled with President Obama before a fundraiser at the Museum of Fine Arts, Allen's chief decision revolved around what he would say to Obama. Rather than lead with a question or comment about the economy or some of the current issues in the Middle East, Allen decided to keep things simple.
--ARROYO AN IMMEDIATE LEADER IN DEBUT--
No position may be more difficult to acclimate to than point guard because, a player is not just learning the responsibilities for one position on each play in a new playbook, he's being asked to know everyone's role. After joining the Boston Celtics on Monday, Carlos Arroyo immersed himself in the team's playbook, but coach Doc Rivers still did a double-take Wednesday when he heard Arroyo call a play the team hadn't even gone over with him yet.
* Bonus link: Loose Balls: A sluggish start and a surprise ending