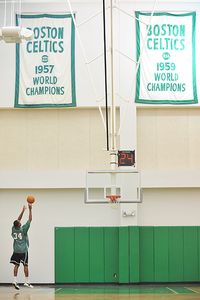 Brian Babineau/NBAE/Getty
Captain Paul Pierce gets up shots at Boston's practice facility.Like Kobe Bryant, certain Celtics stars are known to hit the gym following a rough game. They might have wanted to after Friday's loss to the Philadelphia 76ers:
--CELTICS NO STRANGER TO OVERTIME--
There's a sign-in sheet near the entrance of the Boston Celtics' practice facility, and more often than you'd imagine, coach Doc Rivers will arrive the morning after a game to find Ray Allen's or Paul Pierce's name scribbled at the top with a timestamp past midnight.... "I know there's been many times when, after games, I hear in the morning that guys went straight to Waltham to shoot," said Celtics coach Doc Rivers.
While Rivers said he was a fan of what Bryant did because of the positive message it sent to kids, he did stress that he wouldn't have allowed any such action on the TD Garden floor. Particularly not for an hour and a half.
"Turn the lights out," Rivers joked. "No doubt about it. The lights have to go out."