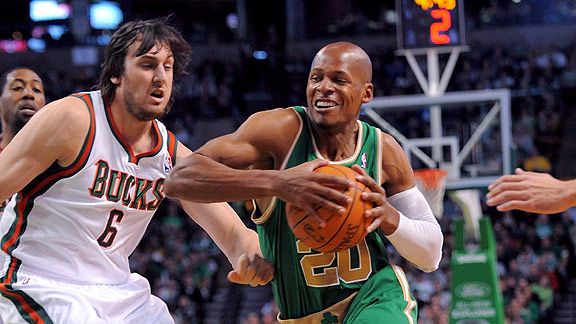 Michael Ivins/US Presswire
Ray Allen and the Celtics had no problem getting past the Bucks.BOSTON -- Rapid reaction after the Boston Celtics defeated the Milwaukee Bucks 87-56 Sunday night at TD Garden:


HOW THE GAME WAS WON
The Boston Celtics established a franchise record for fewest points allowed, limiting the Bucks to 56 points on 22-of-70 shooting (31.4 percent). Ray Allen scored a team-high 17 points, while Paul Pierce kicked in 14 and the starters took the entire fourth quarter off. In fact, this should sum up how breezy the night was for Boston: Troy Murphy logged 17 minutes, scoring 12 points on 5-of-7 shooting with seven rebounds, two steals and a block.
TURNING POINT
The Celtics scored 14 of the game's first 18 points, limiting Milwaukee to four points over the first nine minutes of play while building a double-digit cushion. The game was essentially over from there given the Bucks' anemic offense.
STAT OF THE GAME
The Celtics also established a franchise record by limiting the Bucks to 22 first-half points. Milwaukee scored a mere nine first-quarter points and connected on just 8-of-35 shots (22.9 percent) for the half. No Bucks player had more than six points (Andrew Bogut scored four of his six in the final 56 seconds of the half). The Celtics' previous franchise record was 25 (multiple occurrences). For good measure, the 38 points the Bucks had through three quarters also was a Celtics' opponent franchise low.
UNSUNG HERO
Nenad Krstic continues to thrive in Boston, putting up 11 points and a team-high 14 rebounds over 26 minutes. He finished with a team-best plus-24.
WHAT IT MEANS
TD Garden hosts some Massachusetts high school hoops games the next two days and the Bucks played like a high school team at times (although the Celtics contributed as the teams combined for a whopping 35 turnovers). Boston gets a breezy win, Gino returns for the first time since Jan. 21, the Celtics vault back to the top of the East (a half-game lead on Chicago) and all is well again after a two-game losing streak.