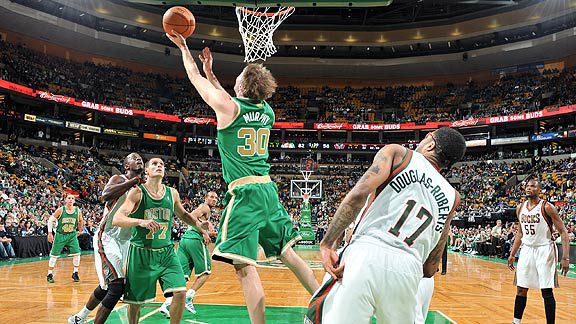 Steve Babineau/NBAE/Getty Images
Troy Murphy made the most of extended minutes against the Bucks Sunday night.BOSTON -- Despite missing his first 10 field goal attempts as a member of the Boston Celtics, and despite questions being raised regarding his confidence level, Troy Murphy never seemed to lose faith in himself.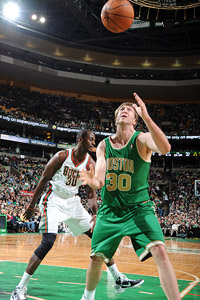 Steve Babineau/NBAE/Getty
Troy Murphy hauls in a rebound Sunday against the Bucks.The rust from a near-two-month hiatus from NBA games clearly showed in his first five games with his new club, and not playing significant minutes wasn't helping matters. In the two games prior to Sunday's 87-56 thrashing of the Bucks, Murphy played a combined nine minutes, and even though he converted his first field goal -- a second-quarter slam dunk against the Philadelphia 76ers on Friday -- it was clear he had yet to establish a legitimate rhythm.
But Sunday's blowout allowed Murphy to collect two vital ingredients: Minutes and opportunities. Not only did Murphy log 17 minutes, 22 seconds of action (good for his highest minute total as a Celtic), but he took seven shots and made five of them, as part of a 12-point, seven-rebound effort -- his best since arriving in Boston.
"Yeah, it's always good," Murphy said of seeing the ball finally go in the bucket. "We haven't had that many practices and it felt good to just get out there and get a little rhythm."
Murphy played just over five minutes through the opening three quarters, but a healthy 60-38 Celtics lead heading into the fourth quarter allowed head coach Doc Rivers to rest his starters and get a few of his new bench commodities some extra minutes. Murphy perhaps benefited more than anyone, as he played the full 12 minutes of the final frame and took six of his seven shots. It was the stretch of consecutive minutes Murphy was looking for.
"It was great," Murphy said. "I haven't done that in a long time. It felt great to be out there."
Murphy's first bucket of the fourth came on an athletic put-back following a Sasha Pavlovic airball. Murphy caught the ball in mid-air, hung, and put in a reverse layup off the glass on the right side, just before the shot clock buzzer went off.
While the Celtics weren't about to complain about Murphy crashing the glass and converting easy shots in the paint, the elephant in the room -- Murphy converting one of his patented jump shots -- still existed. He had yet to convert a jumper in a game since joining the Celtics, but that changed just minutes later, as he stood open at the top of the key, took a Carlos Arroyo feed, and calmly buried a straightaway 20-footer. He followed that up by rebounding a Jeff Green miss and converting it for another layup, and then took another Arroyo pass in the left corner and canned an 18-foot jump shot.
"Troy just needed to see the ball go in the hoop once or twice, and that was good," Rivers said afterward.
The resurgence of Murphy's jump shot has been a work-in-progress. His struggles with it appeared to carry over to his first few practices with the team, but sure enough, day after day, he kept taking and making more of them. In a pre-game shooting drill on Sunday, Murphy at one point knocked down 13 of 15 3-pointers. It all led up to him converting his first two jump shots in legitimate game action. He said after Sunday's win that he never felt uncomfortable shooting the ball.
"Yeah, it feels good," Murphy said. "Whether or not [the ball] goes in or not, it always feels good."
Greg Payne is a student intern for ESPNBoston.com