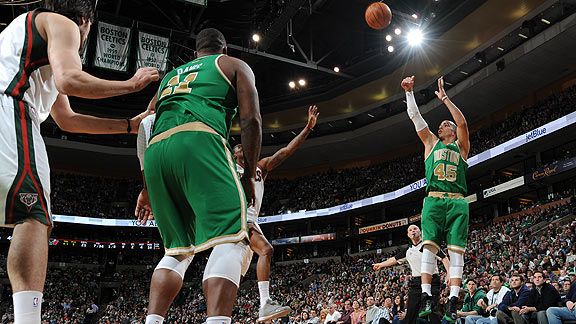 Steve Babineau/NBAE/Getty Images
Carlos Arroyo has made an immediate impact in Boston.There's something to be said for Carlos Arroyo's level of professionalism. His transition from starter for the Miami Heat, to NBA uncertainty, to much-needed reserve for the Boston Celtics has been nothing short of seamless. At the rate he's storing away Boston's detailed playbook, it's looking more and more like Arroyo's been in a Celtics uniform for four seasons as opposed to just four games.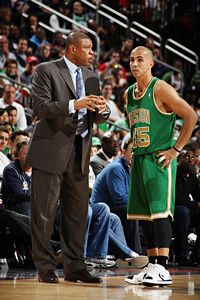 Nathaniel S. Butler/Getty Images
Doc Rivers and Carlos Arroyo chat during Monday's game.Arroyo made a strong first impression on coach Doc Rivers and his new teammates by running the second unit with poise and confidence in his debut against the Los Angeles Clippers last Wednesday. The Celtics lost the game, but Rivers deemed Arroyo "phenomenal" afterwards, and marveled at his ability to call certain plays that the coaches hadn't even gone over with him yet.
That type of sturdy, reliable point guard play has persisted, and in his two most recent games, Arroyo continued to make a case for why he deserves consideration for one of the 12 roster spots available to the Celtics during the postseason.
On a team loaded with newcomers, he's carried himself with veteran poise. Case in point: By the time the fourth quarter arrived in Sunday's win over the Bucks, the game was already decided with Boston out front, 60-38, through three frames. That didn't give the reserves the excuse to take the quarter off, however.
Arroyo played all 12 minutes of the final frame and conducted an offense that included a player desperate in need of an offensive rhythm in Troy Murphy, a player seeking to gain his timing back while returning from injury in Glen Davis, a player the Celtics wouldn't mind seeing look for his own offense more in Sasha Pavlovic, a player who the Celtics need more consistency from in Jeff Green, and a rookie still adjusting to the NBA in Avery Bradley.
The Celtics ended up outscoring the Bucks 27-18 in the final frame, with Arroyo registering four of his game-high six assists in the frame. He was adept at finding his slew of teammates for open jump shots, as Green, Davis, and Murphy all buried perimeter looks off of feeds from Arroyo. Murphy in particular might have benefited more from Arroyo's distributions than any other player as a feed from his point guard led to his first jump shot in a Boston uniform -- something that had steadily eluded him in his first five games here. It was a straightaway 20-footer with 6:16 to play, and four minutes later, he converted another one from the left corner, also on a feed from Arroyo.
Against the Nets on Monday, Arroyo once again posted solid numbers: Four points (on 2-of-4 shooting), four rebounds, three assists, and just one turnover in 17 minutes. With the stats also came his continual string of sound and intelligent basketball plays.
With Rajon Rondo in need of rest at the start of the fourth quarter, and the Celtics already trailing by eight points, Rivers stuck with Arroyo as his point guard, and his faith was rewarded as Arroyo kept the Celtics' offense flowing before Rondo returned to help lead a comeback attempt over the final six minutes of the game. With just under nine minutes left, Arroyo found himself on the right wing, and used a Davis screen to cut back towards the middle. Arroyo then helped finish off a classic pick-and-pop play by feeding Davis a bounce pass between their New Jersey counterparts for a 19-foot jumper.
Thirty seconds later, Arroyo used another Davis screen to free himself along the right elbow. But rather than try and force a pass to someone else, Arroyo recognized a healthy opportunity for himself, and he calmly drained a 15-footer from the elbow, which kept the Nets' lead at eight points.
Just over a minute later came one of Arroyo's finest plays of the night. Paul Pierce found himself triple-teamed on the right wing, but managed to skip the ball out to an open Arroyo at the right elbow. But rather than take the shot himself, Arroyo guaranteed the Celtics a better one, as he rifled a pass through the paint to an open Kevin Garnett on the right block. Garnett rose up and stuffed home a right-handed dunk that kept the Nets' lead at a manageable eight points.
The decision to sign Arroyo was based partly on the inconsistent health of Delonte West, and so far, Arroyo's served as the insurance policy the Celtics were hoping he would be. Not only has he effectively spelled Rondo for stretches, but he's bolstered what would have been a glaring roster gap at backup point guard with West missing more time than originally anticipated with a sprained right ankle. Boston has not had this type of reliable backup point guard play all season, not even when reserve guard Nate Robinson was still on the roster. It was no secret that Robinson was not a true point guard, and he never seemed to fully grasp the ins-and-outs of Boston's offense, nor was he always capable of making his teammates around him better.
So far, Arroyo's demonstrated an ability to do both. Despite him being the newest player on the roster, he could easily fool someone into thinking he's been here since Day 1.
Greg Payne is a student intern for ESPNBoston.com