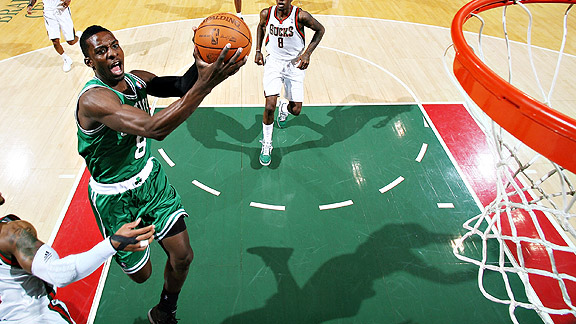 Gary Dineen/NBAE via Getty Images
Jeff Green soars towards the basket in Milwaukee earlier this month.In nine games since being acquired from the Oklahoma City Thunder, Jeff Green is averaging 10.2 points and 2.1 rebounds over 22.7 minutes per game with the Boston Celtics. While coach Doc Rivers tries to figure out the best way to utilize Green on the court, ESPNBoston.com student intern Greg Payne gives us a glimpse of Green off the floor:
ESPN Boston: What's your favorite thing to do when you're not playing basketball? Do you have any hobbies or anything like that?
Jeff Green: "I like to shop. I have a shoe fetish, so I collect a lot of shoes. Nikes, all different types of Nikes. Mostly like track, different colored shoes, some Jordans. It's a lot of things. That's one of my most prized possessions, my shoes."
How did you get into that?
JG: "Because growing up I didn't have a lot of shoes. So once I got the chance, I got a sponsorship by Nike, and then I realized the shoes, they come in. So I just started collecting and collecting."
Do you have your own closet just for shoes?
JG: "Yeah, it's just more shoes and clothes."
What was your favorite TV show when you were growing up?
JG: "The Fresh Prince of Bel-Air, without a doubt. I'm a big, big Will Smith fan."
Do you have a favorite Will Smith movie?
JG: "Favorite movie of his? Hitch."
What do you miss the most about Oklahoma City?
JG: "The people. The people were amazing. The support I got when I left. They said they'd always be there for me, I'd still be a part of Oklahoma City, so that was big for me when I left, knowing that they still supported me, even though I was traded."
Do you know Star Wars at all? Have you seen Star Wars?
JG: "I've seen the last one."
The last one? Not all of them? I was going to ask you, if you could be one character from that whole series, who would it be? I don't know if you know any of them.
JG: "Scotty."
Scotty?
JG: "From the new one, yeah. Because I liked his character, he was fun. It was like he was outgoing, he didn't care, he was just a smart guy."
Who's Scotty?
JG: "Scotty. Isn't that Star Wars? No, that's... that's Star Trek! Isn't that the same thing?"
We'll just say Star Trek, then. Simon Pegg was Scotty, remember? He's from Hot Fuzz.
JG: "Yeah, he's the one... 'Scotty, beam me up, right?'"
Moving on, what's the first thing you do when you wake up in the morning?
JG: "Check my cell phone, send a text to my girlfriend."
Do you sleep with it on silent so nobody bugs you?
JG: "No, nobody bugs me. They know I need my sleep. I get very angry when people wake me up."
If you could have one superpower, what would it be?
JG: "I don't know what you'd call it, but I want to be Wolverine [from X-Men]. What is that?"
Well, he can heal himself. But he has claws, too.
JG: "Yeah. It's like he never gets hurt. He heals himself back up. I would love to have that power."
If you could make a cameo on any TV show right now, what show would it be?
JG: "Modern Family. Yeah, I love Modern Family."