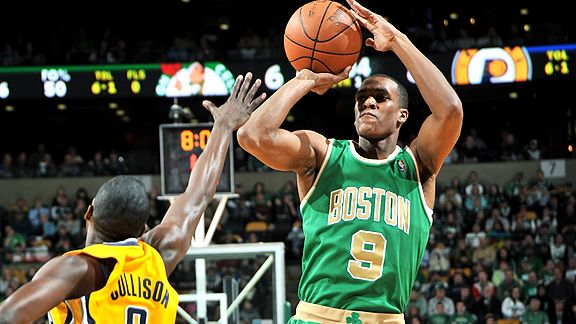 Brian Babineau/NBAE/Getty Images
Rajon Rondo helped the Celtics get back on track Wednesday night against the Pacers.BOSTON -- Rapid reaction after the Boston Celtics defeated the Indiana Pacers 92-80 Wednesday night at the TD Garden:


HOW THE GAME WAS WON
Paul Pierce scored a team-high 20 points over 28 minutes, while Jeff Green kicked in 19 points off the bench to fuel the Boston offense. Indiana shot a mere 37.5 percent (33-for-88 overall) with Paul George and Danny Granger posting a team-high with 15 points apiece. No Celtics starter played more than 29 minutes (Rajon Rondo).
TURNING POINT
The Celtics sleepwalked out of the gates, allowing Indiana to build an early eight-point lead while scoring a mere 15 points in the first frame. Green poured in 13 points on his own in the second frame as Boston erupted for 32 points. With the game tied at 29, Boston embarked on a 15-2 run highlighted by a trio of 3-pointers (two by Ray Allen, one by Pierce) for a 44-31 advantage with 2:02 to go in the half.
STAT OF THE GAME
Highlighted by Green's second-quarter effort, the Boston bench combined for 39 points, its highest output since Jan. 25 (47 points vs. Cleveland).
UNSUNG HERO
Delonte West returned from an ankle injury that sidelined him for eight games and chipped in two points, three assists, a steal, and one very loud fourth-quarter block over 16 minutes. He was a plus-10 in the plus/minus for the night.
WHAT IT MEANS
Despite the sluggish start, it was another feel-good effort for Boston, which leaned on Green's second-quarter explosion to make this one breezy. Troy Murphy was throwing down reverse jams on the eve of St. Patrick's Day and Gino danced (albeit, after the final buzzer). Boston climbs back into a tie atop the Eastern Conference with Chicago, but a daunting three-game road trip (Houston, New Orleans, and New York) looms as the Celtics play 10 of their final 16 games away from the Garden.