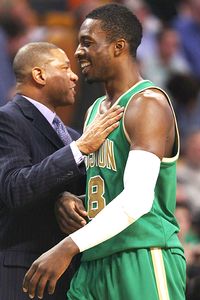 Elsa/Getty Images
Doc Rivers congratulates Jeff Green on a big effort vs. Indiana.BOSTON -- The Celtics are first and foremost a defensive team, but when they acquired Jeff Green three weeks ago, it was with the hope that he would prove to be a key asset on the other side of the ball.
Against the Pacers on Wednesday night at the TD Garden, Green once again fulfilled those hopes, as he sparked Boston with 19 points off the bench in the Celtics' 92-80 victory.
The Celtics trailed 20-15 at the end of the first quarter, but Green confidently led a second unit that changed the complexion of the game in Boston's favor. Green scored 13 of Boston's first 16 points in the second quarter -- including 12 straight at one point -- turning that five-point deficit into a two-point advantage. Utilizing his size against smaller defenders like Brandon Rush and Danny Granger, Green repeatedly posted up on the right block and forced the issue going to the rim, which more often than not resulted in trips to the free throw line. Green garnered eight total free throw attempts in the second quarter, making six of them.
"I just go out there and be aggressive," said Green. "I just go out there and play hard. When you play hard it makes up for a lot of things and it leads to some good things."
When Rajon Rondo checked back into the game mere minutes into Green's scoring spree, the pair developed a formidable chemistry, as Rondo continued pumping the ball into one of his new favorite targets. With just over seven minutes remaining in the frame, Rondo stood along the right wing and rifled a pass through the defense to Green who was streaking along the baseline and converted the feed into a two-handed slam.
A minute later, after simultaneously rejecting and snaring a shot from Pacers forward Tyler Hansbrough, Green raced down the floor to the left corner, and after a post-up feed to Nenad Krstric didn't materialized, Rondo swung the ball around to Green, who calmly buried a 3-pointer, putting the Celtics out front by three.
The two connected again moments later, when a Rondo entry pass to Green was poked away by Granger, only to be snared back by Rondo, who fired it right back inside to an open Green, who laid in an easy layup.
"It's been a lot of fun," Green said of developing his chemistry with Rondo. "That's one thing I kind of credit myself as being a guy who can get out on the open floor and run. When you've got a guard who can pass the way [Rondo] can pass, it's fun. I know he loves when the guy converts it, so I try to do my best to make sure it's not a turnover, and I try to get him assists."
Green converted two free throws off of a clear-path foul minutes later, capping off his string of 12 consecutive points that helped to springboard the Celtics to a 47-40 halftime advantage.
"He's doing everything we're asking," Celtics captain Paul Pierce said of Green. "He's giving us energy off the bench, he's running the court. We're going to him. He's showed that we can trust him with the ball in isolations, running the court, slashing to the basket. It takes a lot of pressure off the first unit when you've got a guy like that who can come in there and contribute like a starter because he's been a starter in this league."
Added Kevin Garnett: "Jeff Green is so versatile. I told you all along, if you put a three on him he's too small, if you put a four [on him], he's too big, he's too quick, and he has so much that he can go to. I think he's going to start to pick up off of some of the vets and personal parts of the game in which he can make himself better. He's an unfinished product. When you see him put that all together it's going to be something special."
Greg Payne is a student intern for ESPNBoston.com