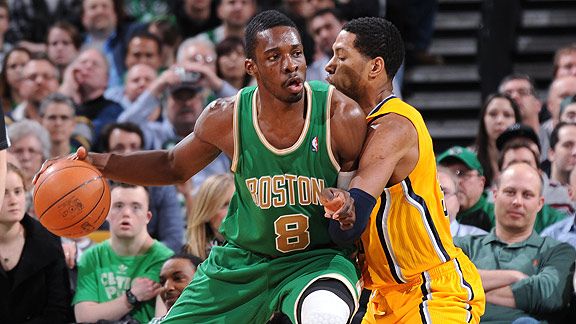 Brian Babineau/NBAE/Getty Images
Jeff Green and the new guys are putting it together for Boston.After the upheaval of trades and injuries, the Celtics' reserves are finally coming together as a unit and Boston can see the potential with this group:
--MAY: BENCH 2.0 SHOWS PROMISING SIGNS FOR C'S--
There may yet come a time when we see an O'Neal, or maybe even two of them. Pending such a grand occasion, when yet another lineup tweak will have to be made, Doc Rivers figures he has finally, finally got his Boston Celtics bench in order. And he likes it. A lot. "They're more talented now,'' Rivers said after watching his reserves close out the Indiana Pacers 92-80 at the TD Garden, keeping the Celtics unbeaten at home against Eastern Conference teams (21-0). "That's number one. You've got Jeff Green in your second unit, Delonte West in your second unit, Glen Davis. Pretty good second unit." Then, as if to state the obvious, "It's nice to see them all on the floor."
--FORSBERG: AS IF WEST NEVER MISSED A GAME--
Celtics coach Doc Rivers doesn't know how Delonte West managed to keep it a secret, but he's convinced West has been participating in an area rec league during his recovery from a sprained right ankle. How else to explain West's precision timing in Wednesday's 92-80 triumph over the Indiana Pacers, only his ninth appearance of the season and his first game back after a nearly three-week absence.
* Related links: Green provides spark | Murphy's dunk | The Association: Episode 4