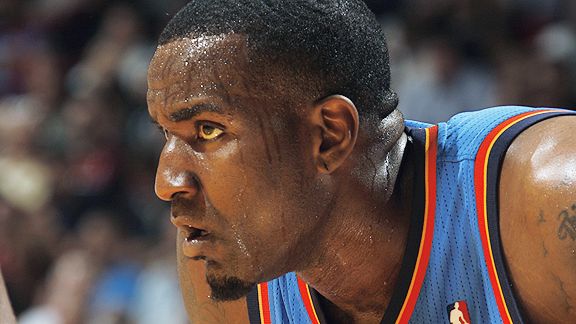 Issac Baldizon/NBAE/Getty Images
Kendrick Perkins was blindsided by his trade to Oklahoma City.Three weeks later, Kendrick Perkins reflects on the "emotional" trade that sent him to Oklahoma City and says he was touched by the Boston fan reaction:
--PERKINS REBOUNDING AFTER 'EMOTIONAL' TRADE--
Like most of us, Kendrick Perkins never saw it coming. Two and one-half weeks ago, he was a Boston Celtic, going through the morning shootaround at the Pepsi Center in Denver. There was a game that night against the Nuggets, although the injured Perkins was going to be spectator, having injured his knee two nights earlier in Golden State. Perkins, of course, never made it back to the Pepsi Center for the game that night. After the shootaround, his agent, Bob Myers, called and told him of the possibility of a deal. Perkins had no clue.
Rivers revealed that he put a stop to an initial deal involving Perkins, but swayed when Oklahoma City offered the Jeff Green/Nenad Krstic package. "At the time I talked to him, it was a different deal and I did put a stop to that one. But I also told him that something might still happen,'' Rivers said.