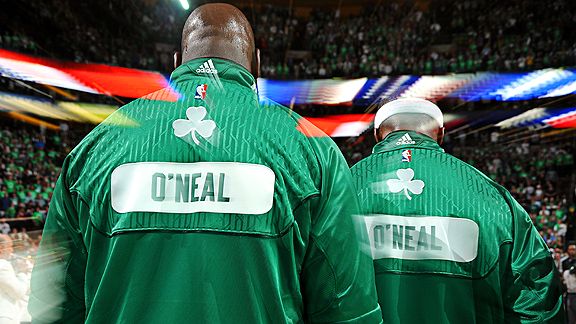 Brian Babineau/NBAE/Getty Images
Could we see both O'Neals -- Shaquille, left, and Jermaine -- back before long?Over the past five days, the Celtics got Glen Davis and Delonte West back from injuries. After battling that pesky injury bug for much of the past three months, the puzzle is slowly starting to get pieced back together. And while the Celtics know not to get too excited too quickly, there's growing optimism that both Shaquille O'Neal and Jermaine O'Neal will return before the end of the regular season and their teammates are adamant they will both be factors in the postseason.
"Guys are excited, even with the recent losses," West said after a never-missed-a-beat performance in his first game back after missing nearly three weeks with a sprained right ankle (West has sat out a total of 57 games this season due to suspension and injury).
"We're excited about who we can be. I talked to J.O., actually, a couple days ago. He's excited. He called me from Chicago and he's excited to get back. He's working hard out there. Shaq, I see him in the gym every day. He's either telling jokes or working hard. And they'll just add to this unit that we already have, we're excited over here."
Pressed if he felt confident that the O'Neals, given the amount of time they've both missed this season and their advanced ages, could still be significant contributors in the postseason, West didn't blink.
"I'm more than confident," he said.
Celtics coach Doc Rivers, making his weekly appearance on Boston sports radio WEEI (850 AM) suggested that both O'Neals could be back before month's end.
"Hopefully Shaq will play within the next week or so, and J.O. probably in a couple weeks," said Rivers. "You don't win without size and we need one of those two to be healthy throughout the playoffs."
The team seems mostly unconcerned with Shaq, simply wanting him to get healthy enough to withstand the rigors of the postseason. With 36 games under his belt this season, he's expected to slide right back in with the starting unit (and given his 19 years of NBA experience, it's doubtful he'll need much time to shake rust).
With Jermaine O'Neal, it sounds as if Rivers is taking a "not expecting anything" approach and will simply consider it a bonus if he can work his way into the playoff rotation. Asked to describe his potential 10-man rotation during the radio interview Thursday, Rivers didn't include Jermaine O'Neal on his off-the-top-of-his-head list.
A night earlier, he did see a potential role for Jermaine O'Neal.
"Listen, if he can give us five hard fouls -- really hard fouls -- block a couple shots and rebound, we'll take that," said Rivers. "I don't even know, timing-wise, if he can do that. That remains to be seen."
Jermaine O'Neal has appeared in just 17 games this season for Boston and, after returning from initial left knee soreness on Christmas Day, he put together a nice stretch of games in which he really found a groove defensively on the second unit. Then his knee flared and he's been sidelined since Jan. 12 (a stretch of 29 games).
Kevin Garnett put his excitement about the potential for a healthy Boston squad in pop culture terms.
"You know what's crazy? This is like a good movie and you haven't even seen all of it," said Garnett. "As a matter of fact, I'm going to use Ocean's Eleven ... you haven't seen Matt Damon, you haven't seen Brad Pitt, you haven't seen Bernie Mac. You've just seen [George] Clooney and a couple other guys."