Rapid reaction after the Houston Rockets defeated the Boston Celtics 93-77 on Friday night at the Toyota Center in Houston:
The rundown: Houston, we have a problem | On guard | Tempers flare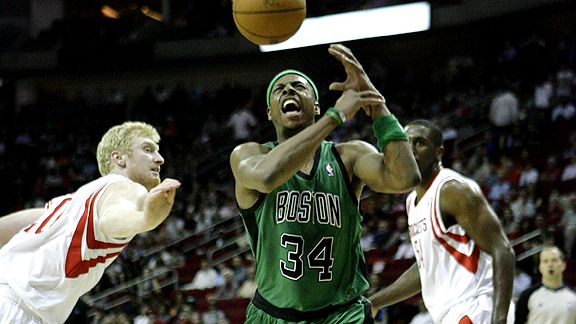 Brett Davis/US Presswire
Paul Pierce and the Celtics struggled on offense Friday against the Rockets, which Doc Rivers said led to their defensive difficulties.--HOUSTON, WE HAVE A PROBLEM--
The Celtics suffered their third straight road defeat and, once again, the finger needs to first be pointed at the defensive end of the floor. The Celtics allowed a season-high 62 first half points, as the Rockets converted 20 of their 40 field goal attempts, all 15 of their free throw attempts and seven of their 14 shots from 3-point nation in the opening 24 minutes. Houston notched 28 points in the first quarter and exploded for 34 more in the second frame, as it carried a 62-40 advantage into halftime.
With that said, Boston's offense wasn't exactly praiseworthy, despite some encouraging play in the opening minutes. The Celtics appeared to enter the game with an aggressive mindset, as guys such as Paul Pierce and Rajon Rondo attacked the rim, creating open looks for themselves and their teammates. That aggressiveness seemed to dissipate as the frame went on however, and the Celtics finished the opening quarter with 22 points on just 8-of-19 shooting from the field (42.1 percent).
"I thought early on we had [intensity] and we couldn't make a shot," Celtics coach Doc Rivers told reporters after the game. "We showed them at halftime -- I think we showed them seven point-blank shots at the basket that didn't go in -- and I thought we got a little frustrated because we were missing shots. Kevin [Garnett] got great turnarounds in the paint, Ray [Allen] missed good shots, and that's uncharacteristic of us. I definitely thought our offense led to our bad defense. I thought [the Rockets] played harder overall, but I thought early in the game, we came with the right intensity. We just couldn't make a shot, and then that led over to our bad defense."
The Celtics' offensive woes continued into the third quarter, as they shot an appalling 6-of-19 from the field, finishing with just 16 points. And while they might have "held" the Rockets to just 19 points in the third quarter, they ultimately dug themselves into a deeper hole, as they trailed by 25 points heading into the fourth quarter. Knowing a rematch with the New Orleans Hornets awaited his team on Saturday, Rivers threw up the white flag, as he didn't play any of his starters in the final frame.
"Well, we accomplished one thing: Minutes were low," Rivers deadpanned.
--ON GUARD--
While the Rockets prevailed thanks to a full team effort, the combined play of their starting backcourt of Kyle Lowry and Kevin Martin sank the Celtics in the opening half. The pair combined for 35 of the Rockets' 62 first half points on 10-of-17 shooting from the field and 14-of-14 shooting from the free throw line, as they thoroughly outplayed their Boston counterparts in Rajon Rondo and Ray Allen. Martin finished with a game-high 25 points, while Lowry finished with 20 points and nine assists.
Meanwhile, Rondo's recent struggles continued, as he shot just 2-of-11 from the field, finishing with just four points and six assists. While there was some encouraging play from Rondo early when he attacked the rim and found open teammates such as Garnett and Pierce in the opening quarter, that aggressiveness evaporated as the game progressed. Overall in his past four games, Rondo has shot just 4-of-29 from the field (13.7 percent) and has manufactured a mere 6.5 assists per game.
As he did following the Celtics' 88-79 loss to the New Jersey Nets on Monday, Celtics coach Doc Rivers maintained his stance that Rondo is not battling any injuries.
"Guys, I don't see that," Rivers said after Friday's loss. "Honestly, I don't. I know you guys see that, or something. I don't know what you guys see, but I don't see that. He's human. He hasn't played well and I think it's that simple, but you guys can manufacture injuries if you want to. I don't see them. I really don't."
Allen never found a comfortable rhythm, as he was forced to the bench with 3:21 remaining in the second quarter after picking up his third foul. Allen finished the game with eight points, but took a season-low six field goal attempts.
"Their guards destroyed us tonight," Rivers said.
--TEMPERS FLARE LATE IN FIRST HALF--
Tensions mounted late in the second quarter, beginning with Kevin Garnett and Chuck Hayes just prior to a timeout with nearly three minutes remaining the opening half and the Celtics trailing by 14. After the whistle had blown, Hayes attempted to strip the ball from Garnett, who tried fending Hayes off with his right elbow. Hayes and Garnett were each awarded technical fouls.
On the very next play, Rockets forward Jordan Hill shoved Glen Davis in the back on defense, sending Davis sprawling into the row of photographers along the baseline. Davis immediately got back on his feet and went to lunge at Hill, but was restrained by Rondo. Davis yelled and pointed aggressively at Hill, and was eventually charged with a technical foul of his own.
A minute later, Hill found himself in the thick of things again, as he was fouled hard by Delonte West on a shot attempt in the paint. Replays showed West made contact with Hill's head on the foul, and West was promptly charged with a flagrant foul.
In the midst of the various flare-ups, the Rockets finished the second quarter on a 13-3 run.
"I thought we lost our composure," Rivers said afterward. "I thought they got into whatever these guys do now, with all the talking and barking, and I thought they slowed down and played better, and I thought we got so excited and we started playing quicker and sloppier. And that, to me, was the turning point. Even though at that point, I think it was a 10- or 12-point game -- it was still a good game -- but they stretched it right before halftime because, I just thought, we lost our composure a little bit."
Greg Payne is a student intern for ESPNBoston.com