In his Weekend Dime, ESPN.com's Marc Stein examines the potential NBA coaching carousel, including a look at where Celtics coach Doc Rivers stands: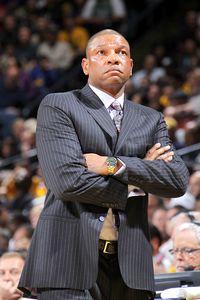 Rocky Widner/Getty Images
Is this Doc Rivers' final year on the Boston bench? Speculation is heating up again.
Rivers is one of the NBA's few remaining untouchable coaches, along with San Antonio's Gregg Popovich and the Los Angeles Lakers' Phil Jackson, but countless coaching insiders believe that Rivers will be taking no less than a one-year hiatus at season's end. No matter what happens in the playoffs.

Although Celts president Danny Ainge and the veteran trio of Kevin Garnett, Paul Pierce and Ray Allen were able to lobby Rivers last summer to come back for one last run together, pessimism reigns in Boston when it comes to successfully lobbying him again. Word is Doc is determined to free himself up to see his Duke-bound son, Austin, after work commitments prevented him from watching his other three children as much as he wanted to see them compete in various sports.

So where does Ainge turn if Rivers indeed can't be coaxed back? Celtics assistant coach Lawrence Frank and longtime Ainge teammate Kevin McHale are sure to be linked to the job instantly once it becomes vacant, but more than one veteran Ainge-watcher contacted this week coached me to assume that Ainge has a name or two in mind that no one has even pondered yet, given that (A) he had to be prepared for Rivers' departure after last season and (B) that sort of stealth planning would be classic Ainge.

"If anybody in the league has a secret candidate," one coaching source said, "it's Danny."