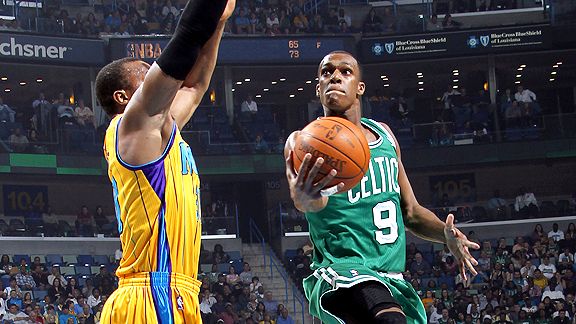 Layne Murdoch/NBAE via Getty Images
Rajon Rondo and the Celtics rallied from a 15-point deficit to win in New Orleans.Rapid reaction after the Boston Celtics defeated the New Orleans Hornets 89-85 Saturday night at New Orleans Arena:


HOW THE GAME WAS WON
Playing with extra spunk in front of his hometown crowd, Celtics reserve forward/center (and Baton Rouge native) Glen Davis erupted for 20 points on 8-of-11 shooting with eight rebounds and a steal over 29 minutes as the Celtics rallied out of a 15-point, second-half hole. Ray Allen matched Davis with a team-high 20 points, connecting on 7-of-13 shots over 44 minutes. David West scored a game-high 32 points for New Orleans, while Marco Belinelli added 23 for the Hornets.
TURNING POINT
The Celtics trailed by 15 early in the third quarter, but closed out the period with a 26-8 run to carry a 67-64 advantage into the final stanza. Allen made all five shots he took in the frame, including a pair of 3-pointers to ignite the rally. He finished with 12 points in the quarter, while Davis added four buckets (eight points) and four rebounds during the feverish rally. Boston's three-man bench of Davis, Jeff Green and Delonte West combined to connect on 6-of-7 shots for 12 points in the third quarter.
STAT OF THE GAME
Unable to find their shot in recent games, the Celtics overcame a woeful first-quarter shooting performance (6-of-18, 33 percent) to shoot 51.5 percent overall (35-of-68). Boston made 12 of 16 shots (75 percent) in the third quarter alone.
UNSUNG HERO
With Rajon Rondo playing just 4:48 in the third quarter (after a collision with Garnett, Rondo could be seen on the sideline icing his hand, but he returned later), the Celtics leaned hard on West to run the offense. He responded by guiding the comeback effort and finished with nine points, five assists, a rebound and a block over 14 brilliant minutes. West was also a team-best plus-19 in the plus/minus category, further emphasizing his role in the rally.
WHAT IT MEANS
The Celtics' struggles in back-to-backs closing on the road have been well-documented with the team dropping eight of 10 games under that scenario this season, including their last six. After losing for only the second time in 15 tries on the front end of a back-to-back Friday night in Houston, Boston responded by stealing one on the road and rallying from 15 down (the largest deficit overcome this season).