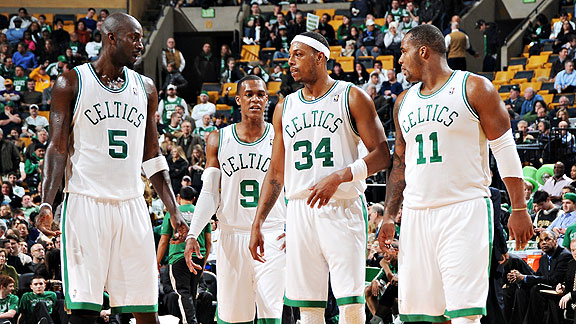 Brian Babineau/NBAE/Getty Images
The Big (defensive) Four: Garnett, Rondo, Pierce, and Davis.It shouldn't come as much of a surprise that the teams with the best defensive rating (points allowed per 100 possession) in the league would stack multiple players onto the league leaders in defensive rating (the points a team allows per 100 possessions with an individual player on court).
Basketball-Reference.com
The Chicago Bulls and Boston Celtics find themselves in a virtual tie not only atop the Eastern Conference standings, but as league leaders in defensive rating (both stood at 99.9 Wednesday morning, according to Basketball-Reference.com). So how does it break down individually?
The Bulls currently own spots Nos. 4-6 on the top 20, thanks to the efforts of Taj Gibson (97.4), Ronnie Brewer (97.9), and Carlos Boozer (98.8). Luol Deng (101.9) makes it four in the top 18. Boston counters with four players in the top 12, topped by Kevin Garnett (94.4) second only to Dwight Howard in the league. Boston also sweeps spots Nos. 10-12 thanks to Rajon Rondo (99.6), Glen Davis (100.1), and Paul Pierce (100.5).
Some might wonder how Davis is in that mix. In the absence of a consistent starting center this season, he's logged the most time with the Big Three and Rajon Rondo and is essentially a glorified starter. Ironically, Shaquille O'Neal, Jermaine O'Neal, Kendrick Perkins and Semih Erden all boasted sub-100 defensive ratings, but don't appear to have logged enough floor time to qualify.
Where's Ray Allen? Due in part to the extended sessions he's logged with the second unit (an inconsistent bench at best to start the season), his defensive rating has suffered.