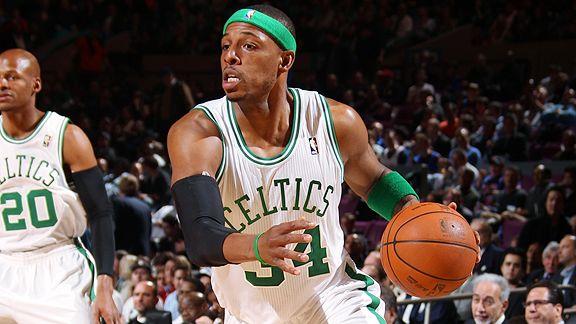 Nathaniel S. Butler/NBAE/Getty Images
Foul trouble prevented Paul Pierce from a repeat performance on Broadway.NEW YORK -- Rapid reaction after the Boston Celtics defeated the New York Knicks 96-86 Monday night at Madison Square Garden:


HOW THE GAME WAS WON
Kevin Garnett poured in a game-high 24 points on 10-of-15 shooting with 11 rebounds, while Paul Pierce overcame early foul trouble to add 21 points on 8-of-13 shooting (saving much of his offense for the final frame). Rajon Rondo looked like Rajon Rondo again, chipping in 13 points, 12 assists and 2 steals over 41 spirited minutes (this despite 6-of-15 shooting). Carmelo Anthony (22) and Chauncey Billups (21) paced the Knicks.
TURNING POINT
The Celtics trimmed a 14-point halftime deficit to two and held all the momentum when Jeff Green's fastbreak dunk (on a pretty feed from Delonte West) dented New York's lead to 71-69 with 10:02 to play. Coming out of a timeout, Billups drilled a 3-pointer. On the next trip down, Anthony got a questionable whistle and added two free throws. A gun-shy Glen Davis, who picked up his fourth foul on the play, could only watch as Toney Douglas followed with a baseline floater for a 78-69 lead with 8:30 to go. But Boston wouldn't go quietly ...
Down nine with 7:13 to play, the Celtics embarked on a 13-0 run, Kevin Garnett's shot-clock beating jumper with 4:18 to play capped the spurt and put Boston out front, 86-82. The Celtics then scored 10 of the game's final 14 points, sending the crowd streaming to the exit in the final moments.
STAT OF THE GAME
There's no stat to quantify desire, but Boston simply wanted the game more in the final quarter. Garnett and Rondo were sprawling on the floor for loose balls and the Knicks couldn't match the intensity.
UNSUNG HERO
Davis overcame an elbow to the noggin to register eight points and nine rebounds over 27 minutes.
WHAT IT MEANS
Can we interest you in a first-round playoff series between these teams? While it probably wouldn't be good for the long-term postseason health of either side, it sure would be intriguing. Boston gave its chief Atlantic Division rival another demoralizing defeat on its home turf in a game with a playoff atmosphere. Maybe New York's elbows were enough to clear Boston's recent cobwebs.