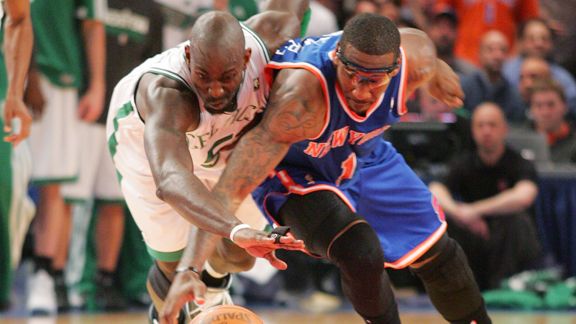 Jeyhoun Allebaugh/NBAE/Getty Images
Kevin Garnett gets set to pounce on Amare Stoudemire and this loose ball.After Doc Rivers suggested at halftime that his team was soft, the Boston Celtics made life hard for the New York Knicks:
--CELTICS TOUGHEN UP IN TIME VS. KNICKS--
Appropriately, it's a four-letter word, maybe the only one that isn't uttered on a routine basis in the team's locker room. But Boston Celtics coach Doc Rivers was incredulous at his team's lackluster play Monday night against the New York Knicks and so, for the first time maybe in the Big Three era, he dusted off the dirtiest word in basketball. Soft. Now, truth be told, Rivers swears he didn't actually utter the word. As if even a mere mention might be taking it too far. But he certainly insinuated it, probably doing everything short of drawing a picture of a pillow and a melted marshmallow on the dry erase board in the visitor's locker room.
* Bonus Links: Daily Dime: Same Old Knicks | ESPN New York