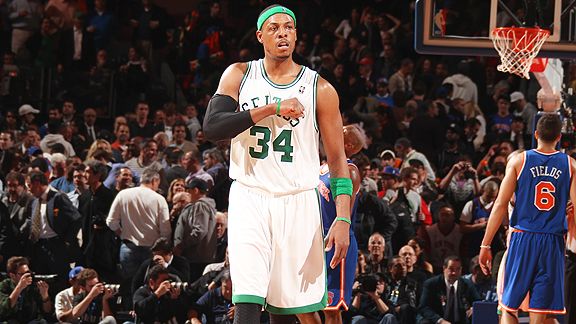 Nathaniel S. Butler/NBAE/Getty Images
Paul Pierce pounds his chest during Boston's rally from a 15-point deficit vs. the Knicsk.It took the Boston Celtics 24 minutes of play in Monday's 96-86 come-from-behind victory over the New York Knicks to play like the Boston Celtics. It took Paul Pierce 12 additional minutes to finally play like Paul Pierce.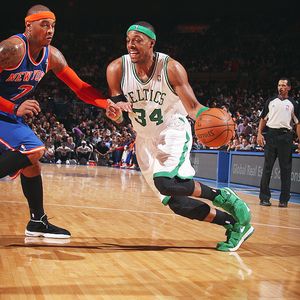 Nathaniel S. Butler/NBAE/Getty Images
Paul Pierce looks to drive against Carmelo Anthony and the Knicks.Hindered by a lack of field goal attempts, a tough defensive matchup with the Knicks' Carmelo Anthony, and frustrating foul trouble, Pierce stumbled through the first three frames, posting just eight points on 3-of-8 shooting, to go along with four rebounds and four personal fouls. But after Anthony dropped 18 points over that same span, Pierce had had enough, and promptly went on a fourth-quarter scoring spree, tallying 13 points on 5-of-6 shooting from the field as Boston completed its comeback from a 15-point deficit.
"You give a scorer a little taste," Pierce said in a sideline interview broadcast on Comcast SportsNet after the game. "Sometimes that's all it takes for me, just to see the ball go in once, twice and then I feel like I've got a good groove and my teammates do a good job of setting me up and getting me the ball."
Pierce only saw the ball go in the hoop three times in the first half, as his shot attempts were sporadic, and he was forced to play the final 4½ minutes of the second frame with a tinge of caution after picking up two quick fouls less than a minute apart from one another. Anthony found himself in an identical foul situation, but unlike the Celtics, who went away from Pierce on the offensive end during this stretch, the Knicks fed Anthony the ball repeatedly, in an attempt to lure Pierce into a critical third foul. Pierce avoided his third personal, but Anthony scored four of the Knicks' final six points of the first half, capping off a 17-point effort in the opening two frames.
Fortunately, talk within the Celtics' locker room at halftime of the team playing 'soft' awoke a sleeping giant, and Boston stormed out of the gates in the third quarter. Unfortunately, Pierce wasn't in on the charge. He missed his only shot attempt in the opening minutes of the third frame, and while the Celtics embarked on a 12-7 run anyway, Pierce once again picked up consecutive fouls within a minute of each other, and was forced to the bench for nearly the final six minutes of the quarter.
The Celtics weathered the storm without Pierce, trimming an 11-point deficit to six over the final 39 seconds of the frame. When Pierce returned at the start of the fourth quarter, he helped make sure that deficit went away completely. Less than two minutes in, Pierce backed down New York's Shawne Williams and turned into the lane for a layup, cutting the Knicks' lead to four. Three minutes later, Pierce pulled up for a jumper along the right wing, beginning a string of nine consecutive points he rattled off for Boston.
After Chauncey Billups converted a difficult four-point play for the Knicks, Pierce countered with an aggressive left handed drive into the paint on Anthony and drew a foul while trying to rise up for a loud dunk. Pierce sank both free throws and followed them up by calmly pulling up and draining a 3-pointer from the left wing in transition on Boston's next possession, restoring the deficit to a very manageable four points.
Things continued to grow tense between Pierce and Anthony, highlighted on an inbounds play with 6½ minutes left, in which Anthony appeared to shove Pierce to the side in order to get free and receive the ball. But no matter what antics Anthony resorted to, the fourth quarter was not his time on Monday. Pierce and Co. held Anthony to 0-for-3 shooting in the final frame and a mere four points, all of which came at the free throw line.
"Well he's a difficult matchup, and him not being in the Eastern Conference [for much of his career], I'm not really used to guarding him, so I just tried to make adjustments throughout the game, get up on him," Pierce said of defending Anthony. "He's such a good mid-range shooter, so I think we did a better job of loading to him, keeping him from driving and just keeping him on the outside."
Pierce, meanwhile, wasn't finished. He capped off his run of nine straight points by taking a quick dribble to the left on New York rookie Landry Fields, and pulling up in a flash for another jumper near the right elbow, cutting the Knicks' lead to two . The Celtics took their first lead of the fourth quarter less than a minute later, on a sleek Ray Allen up-and-under layup, off of a halfcourt heave from, you guessed it, Pierce -- a play that brought the entire Boston bench to its collective feet.
The Celtics held tight to their slim lead until Pierce put them ahead comfortably with under a minute remaining. Once again on the right wing, Pierce scoffed at the defense of Fields by rising up and knocking down another jump shot, giving the Celtics a 92-86 lead, before securing a Toney Douglas miss and once again launching the ball the length of the floor to Allen, who converted a wide-open dunk to put the game out of reach.
"Paul was great," Celtics coach Doc Rivers said of Pierce's 21-point outing. "That was the other thing in the first half. Carmelo had two fouls, and Paul had two fouls, and I thought [Knicks coach] Mike [D'Antoni] did a great job down the stretch of the second quarter. He went to Carmelo every time and we just didn't [seem] to go to Paul every time. It was a game of chicken, trying to get one of them their third foul. We went away from Paul instead of going to him. In the third and fourth quarters, Paul, he was aggressive. He was great."
Greg Payne is a student intern for ESPNBoston.com