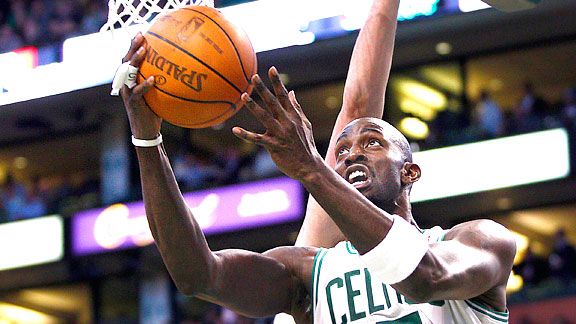 Mark L. Baer/US Presswire
Kevin Garnett and the Celtics rallied again, but couldn't top Memphis.BOSTON -- Rapid reaction after the Memphis Grizzlies defeated the Boston Celtics 90-87 Wednesday night at the TD Garden:


HOW THE GAME WAS WON
Zach Randolph and old friend Leon Powe combined to score a team-high 13 points for the Grizzlies, who put six players in double figures while fending off Boston at the wire (another old friend Tony Allen in defense as Paul Pierce missed a potential overtime-forcing 3-pointer at the buzzer). Pierce sparked Boston with a big second-half effort, finishing with a game-high 22 points, while Ray Allen kicked in 14 more.
TURNING POINT
The Celtics boasted a chance to tie the game down three in the final seconds, but a play broke down and Boston settled for a head-shaking 3-point attempt by Glen Davis that was way off the mark. The Celtics got another life when Marc Gasol missed a pair of free throw attempts that could have sealed the game, but this time it was Pierce that was off-target as Tony Allen exulted.
Boston actually led 77-76 with a little less than eight minutes to play, but the Grizzlies scored the game's next eight points -- old friends Leon Powe and Tony Allen combing for six of them -- to build a seven-point cushion that Boston never could claw back from.
STAT OF THE GAME
Celtics coach Doc Rivers said Boston needed to limit points in the paint. The Grizzlies finished with a 52-26 advantage in that category, as well as a 43-37 edge on the glass.
UNSUNG HERO
Powe made Boston regret not giving the thought of bringing him back after being bought out by scoring 13 points on 5-of-6 shooting over 17 minutes. He didn't grab a rebound, but he sure made his presence felt against his former team.
WHAT IT MEANS
The way Western Conference teams are playing in Boston, maybe the Celtics don't want homecourt advantage if they reach the NBA Finals. The Celtics are 21-0 against Eastern foes, but now a mere 8-7 against the West at the TD Garden. This is the second straight year they've lost to Memphis in Boston. All the good feelings from back-to-back 15-point rallies are washed away by a disappoint loss at home that drops Boston a full game behind the Bulls in the race for the top seed in the East.