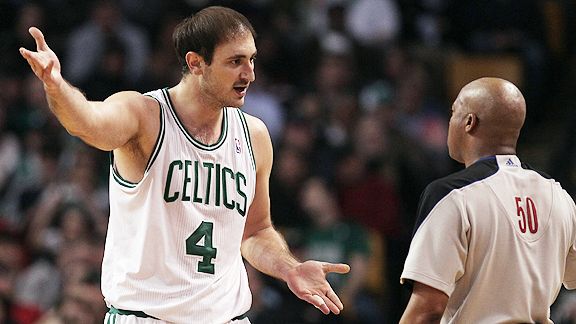 Elsa/Getty Images
Nenad Krstic spent a lot of time barking at officials Wednesday night vs. Memphis.BOSTON -- The honeymoon might finally be over for Nenad Krstic.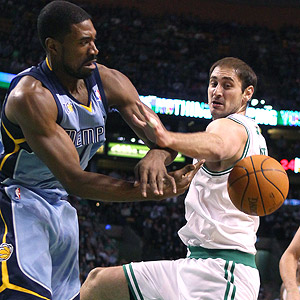 Elsa/Getty Images
Leon Powe and Nenad Krstic battle for the ball near the basket.After his initial time with the Boston Celtics were defined by promising play on the offensive end and a surprising assertiveness on the glass -- culminating earlier this month with a Player of the Week nomination -- Krstic's last four performances have been nothing short of lackluster, capped off by Wednesday's forgettable effort in a 90-87 loss to the Memphis Grizzlies.
The numbers alone speak volumes. Krstic scored just six points on 2-of-6 shooting, grabbed only two rebounds, committed five personal fouls, and turned the ball over four times in a little over 21 minutes of action in what ended up being Boston's fifth loss in its last nine games.
"I didn't have a good game," Krstic admitted. "I don't know, I thought maybe a couple times I got fouled but they didn't call it and on the other end I got cheap fouls. It's just frustrating and I think it affects you a little bit, but I just had a bad game, that's all."
Whether or not the officials impacted Krstic's play doesn't hide the fact that as the game wore on, the Celtics' center looked less and less comfortable within the team's offensive and defensive schemes. After knocking down his first two shots in the first quarter, Krstic became a shell of himself over the final three frames, as he missed all four shots he attempted, fumbled catchable passes from the likes of Rajon Rondo and Kevin Garnett, and hesitated when he had prime position around the basket by resorting to what appeared to be an unnecessary number of upfakes.
"I think for [Krstic], it's probably between the ears," said Celtics coach Doc Rivers. "He had three, four, or five layups where he was pump-faking and he's seeing ghosts. That happens. You're new and you're learning all this stuff. He's forgetting that he has to play basketball right now. That comes from us. We probably have to do a better job of un-clouding things for him. He's got a lot of clutter going on. Somehow we have to figure out a better way to clean it up."
Krstic admitted the adjustment period hasn't passed quite yet. As a member of the Oklahoma City Thunder for the first half of the season, his responsibilities on the offensive end were minimal, seeing as he was playing alongside the likes of All-Stars Kevin Durant and Russell Westbrook. And while he's currently starting alongside a quartet of All-Stars in Rondo, Ray Allen, Paul Pierce, and Garnett, the Celtics' offensive system is predicated on ball movement, and ever since Krstic arrived, they've been looking to utilize his ability to spread the floor and knock down jump shots, as well as his soft touch around the rim.
"Yeah, it's just finding my rhythm back, because in Oklahoma City, I was a different kind of player, but now they want me to play closer to the basket," Krstic said. "I've had some good games, I've had some bad games, but I'm still adjusting to this system and still adjusting to what coach wants from me."
Frustration appeared to set in for Krstic as the game wore on, particularly with the officials. The more Krstic was denied whistles and subsequent trips to the free throw line, the more he campaigned for them. Things came to a head early in the third quarter, when Krstic tried advancing past Memphis forward Zach Randolph on the left baseline. After a series of upfakes didn't work, Krstic tried to draw the contact, and while the pair did appear to graze one another, no whistle was blown. And while nine other players sprinted down the floor as the Grizzlies advanced the ball towards their basket, Krstic lagged behind to give a nearby official a few extra words.
The result was Memphis having a one-man advantage on their end, and center Marc Gasol put down an easy dunk, giving the Grizzlies a two-point lead. Rivers immediately inserted Glen Davis instead, and gave the frustrated Krstic a brief lecture as he headed for a spot on the bench.
His ire with the officials was only further perpetuated in the fourth quarter, when he was called for three personal fouls within the first four minutes of the frame. Krstic maintained that he tried not letting the discrepancy in fouls impact his play, but he might not have avoided the issue completely.
"I don't think that way, but maybe it's in my head, because obviously I don't get calls," Krstic said. "I don't really get calls. That's the thing, I think I got [fouled a couple times] but I didn't get the calls tonight and it's just the way it is right now."
For all of his struggles on the offensive end, Krstic's impact on defense was equally transparent, as the Grizzlies doubled up the Celtics in points in the paint, 52-26. When the gap in paint points was relayed to him, Krstic immediately noted he wants to see improvements in the team's defense overall.
"I think we need to be more physical," Krstic said. "I think we need to play better defense, like help defense on the pick-and-roll, and post defense, too."
"All five guys need to be on the same page and if the guy is rolling, the forward or the guard needs to bump him a little bit, or the big guy needs to push his man on the post. Different stuff."
While Krstic's performance on Wednesday won't grace any highlight reels, he maintained that he'll seek to take something away from the outing before he wipes it from his memory.
"Well, it's hard to forget," Krstic said. "Right now every game is important for us, and you just need to learn from it, and then try to forget it, because the good thing about this league [is] we have another game in two days, and it's just frustrating when you're losing at home. We need to come out with more energy."
Greg Payne is a student intern for ESPNBoston.com