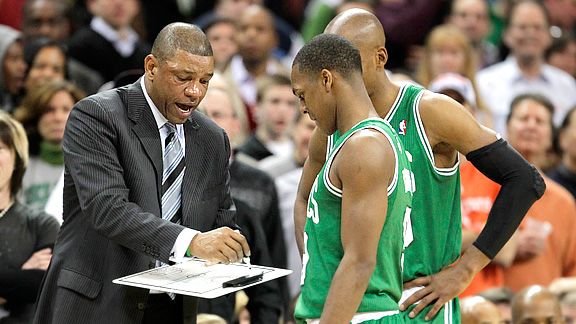 AP Photo/Chuck Burton
Doc Rivers draws up a play for Rajon Rondo and Ray Allen.The Celtics don't need Doc Rivers to spell out the importance of home-court advantage in the playoffs. But they do need to raise their game, writes Peter May:
--MAY: EARNING TOP SEED A PRIORITY FOR C'S--
In some locker rooms around the NBA, there is a list of the updated division and conference standings, reminding the team where it is, where it needs to go and where it need not go. You won't see any of that in the Celtics' locker room at TD Garden. There are a couple inspirational sayings, a lot of photographs of Celtics past and present, and absolutely no indication of where the Celtics stand in the Eastern Conference. That's by design, of course. "I haven't even mentioned it to them,'' Doc Rivers said. "But I'd be surprised if they didn't know. You guys ask them all the time."
* Bonus link: ESPN Chicago: Bulls, Celtics have much in common