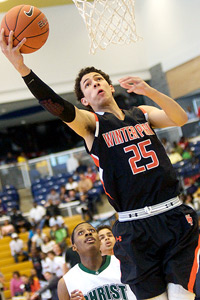 Mike Buscher for ESPN.com
Austin Rivers, son of C's coach Doc Rivers, at work for Winter Park High School.Austin Rivers, the Duke-bound son of Celtics coach Doc Rivers, discussed Duke, race, the Fab Five and more during a recent conversation with ESPN.com columnist Gene Wojciechowski:
--A DUKE RECRUIT RESPONDS TO ROSE--
You always hear about rivalries where teams don't like each other. Duke-Michigan wasn't a rivalry because of basketball. That was kind of a rivalry because of racial hatred maybe a little bit. [The Fab Five] didn't like the way Duke carried themselves as far as the preppy, white kids, or the black kids who they thought were traitors. That's why they hated them. That's what they told the camera for the documentary. It was, like, "Why are you over there?" I had no idea that situation existed. I didn't know Jalen felt like that. It was kind of weird watching it. It was interesting, though. Everybody's been buzzing about it because of the Fab Five and what they said. "Uncle Tom" … the "bitch." You wouldn't think they'd felt like this.
* Bonus link: Chat with Austin Rivers Friday at 1 p.m.