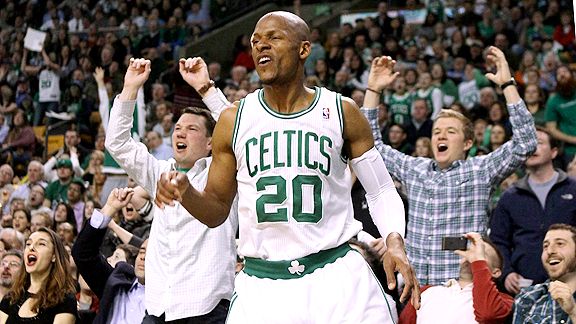 Elsa/Getty Images
Ray Allen and the Celtics have simply been off lately.BOSTON -- The Boston Celtics are built to overcome a poor performance from one player.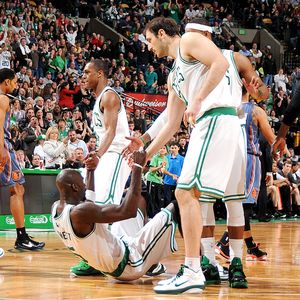 Steve Babineau/NBAE/Getty
The slumping Celtics need to pick each other up.But when the team, as a whole, is guilty of the recent issues that have been plaguing Boston -- a noticeable lack of ball movement, a subpar level of intensity, poor execution down the stretch, playing down to lesser teams -- the losses begin to pile up. Such was the case in Friday's 83-81 defeat at the hands of the 29-42 Charlotte Bobcats, in which the Celtics rode cruise control for the vast majority of the game and failed to switch back into gear when Charlotte clawed all the way back from what was a 13-point deficit in the waning minutes.
But just like one player cannot be blamed for the current woes the Celtics are fighting through, one player alone cannot pull the Celtics out of them. It will take a collective effort to fix the collective problems.
"It has to come from all of us," Paul Pierce said. "One player can come out here and say it and "hoo-rah" around the locker room, but it has to come from everybody. We're all veterans, we've all been here before, and we all know what it takes. It's got to come from each individual to take a look in the mirror, and look inside and decide if that's what they want to do. We can talk about it every day, but until we look at ourselves in the mirror, that's what it's going to be."
About the only thing the Celtics did collectively on Friday was play with that apparent lack of energy, as well as a certain amount of selfishness, according to head coach Doc Rivers.
"Right now, I just think we've become very, very selfish," said Rivers following his team's second consecutive defeat. "Not as far as trying to get our own, but everything is about how we're playing individually instead of how the team is playing."
The issues at hand have been present throughout the month of March, dating all the way back to what were winnable games against the Los Angeles Clippers and Philadelphia 76ers. And while the issues themselves are evident, the roots of the problems aren't exactly clear.
"I don't know what is," Kevin Garnett said after Friday's setback. "I don't even know what it is.
"I don't know. Believe me, if I could put my finger on it then I don't think we'd be in this position. But it is difficult. I think everybody's trying to do it themselves versus doing it together."
The last time the Celtics won -- Monday against the New York Knicks in Madison Square Garden -- a team-wide effort was on display. Rajon Rondo, Garnett, and Delonte West all made crucial hustle plays at key points in the game. Pierce overcame foul trouble to rifle off 13 fourth-quarter points. Rondo tallied double-digit assists for the first time since March 4. And, perhaps most importantly, it was clear every member of the squad was dedicated to winning the "they just wanted it more" battle.
"When anything goes wrong we count on everybody," Ray Allen said after Friday's loss. "Somebody's having a tough night, whether they have a tough matchup, or they're not making shots, we always have enough help for somebody to help carry the load. We've always embodied that spirit here."
With Monday's win over New York serving as something of an exception, the spirit Allen talks about has been noticeably absent for weeks now, and while the Celtics might not be able to pinpoint the cause of the problems, they maintain that they have the solution: Togetherness.
"I know Doc and everybody swore to commit themselves and it starts with everybody," said Garnett. "We all have to obviously do this together, but you know, everybody's going to have to pick it up and change this."
Greg Payne is a student intern for ESPNBoston.com