WALTHAM, Mass. -- The O'Neals -- Shaquille and Jermaine -- are not the only ones battling injury on the Celtics' roster right now, just the ones drawing the most intrigue. So here's a quick rundown on where Boston's other patients stand before Saturday's practice at the Sports Authority Training Center at HealthPoint: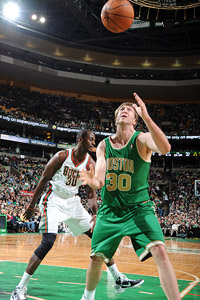 Steve Babineau/NBAE/Getty
Troy Murphy is still in a walking boot after Thursday's ankle sprain.* Reserve forward Troy Murphy came onto the court without a walking boot, but admitted it was only because he had just completed some work on the exercise bike. He is also not expected to travel on Boston's upcoming four-game road trip that starts Sunday night in Minnesota and didn't have a firm timeline for his return.
"It's sore," Murphy said of the right ankle he sprained in Thursday's practice. "I think I got it pretty good. I'm continuing to get treatment and I'll come back as quickly as I can."
But Murphy admitted he's not initially optimistic.
"No, I'm struggling walking right now," he said. "I'm still in a boot, and they just want met to wear this thing during practice and everything to walk around, but I'm still in the boot and everything like that."
* Reserve guard Von Wafer was present at practice, but not dressed to participate, which suggests he's still a ways off from returning from a right calf strain suffered on March 4. Wafer participated fully in Thursday's session, but said then that he would need to evaluate how the calf responded before setting his own timeline. Celtics coach Doc Rivers has maintained that Wafer's return remains a ways off.
* Delonte West traveled to the D.C. area with his nine-month house arrest sentence set to expire Saturday morning, but is expected to join the team in Minnesota before Sunday's game. West is dealing with swelling in his right ankle due in part to a bone chip that remains there following a nasty sprain late last month during an informal offday workout. The sprained ankle caused West to miss eight games.
Rivers held West out of the final seven minutes of Friday's loss to the Bobcats after twisting the ankle a bit, but the coach said he's not overly concerned moving forward.
"We all have [bone chips], I have a bunch of them, really," said Rivers. "I just think, it's floating, and there are times it pinches and they hurt. More than that, unless they need to be surgically removed, which his doesn't, it just becomes a pain thing. There will be games where he feels great, and games when he plays with more pain. [Friday] night, he actually twisted it a little bit and it was more than that anything else."
* Rajon Rondo appeared to aggravate his right pinky injury late in the first half of Friday's loss to the Bobcats, but suggested Saturday that he's fine and that he's not limited by the injury.