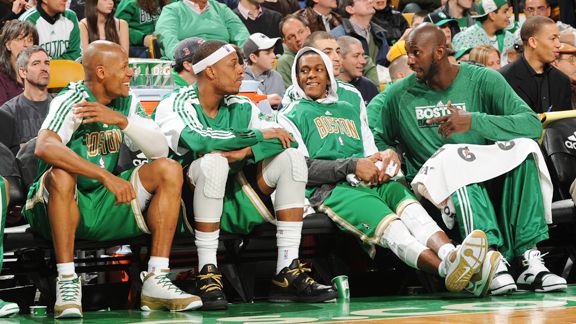 Steve Babineau/NBAE/Getty Images
The Celtics' Big 4 is preaching a stay-together mentality.WALTHAM, Mass. -- The Celtics might not be playing very well together on the court these days, but that doesn't mean they're coming apart off the court as a result.
Despite the ongoing string of issues the team has been plagued by in its last several games, as well as the mounting losses, the Celtics have not resorted to pointing fingers and blaming one another, and there has been nothing to indicate the ship will steer in that direction.
Talk of internal rifts with this club might be considered blaspheme, given how the players refer to each other as brothers more often than they refer to one another as teammates. But even the most tightly-knit groups deal with internal struggle from time to time. The key to avoiding that unwanted chatter is communication, according to Ray Allen.
"You come to the locker room, you look your teammates in the eye, and you [converse]," Allen said prior to the Celtics' practice at the Sports Authority Training Center at Healthpoint on Saturday. "Communication is big, because, on the flip side of it, on bad teams, you come to the locker room and you're mad at everybody. You look at the guy next to you and you say, 'He's doing this, he's doing that, and it's pissing me off,' and you get mad at the coaching staff and that's when the dissension starts.
"On our team, you come in, and you just have the conversations, and you might not even talk about the game last night. You just remember to stay brothers and communicate, whatever it may be, just so you know, 'Hey, we're in this thing together, regardless of what happens.'"
After suffering one of their worst home losses of the season -- an 83-81 head-scratcher to the Charlotte Bobcats on Friday -- the Celtics regrouped for a quick session on Saturday before their scheduled flight out to Minnesota for Sunday's bout with the Timberwolves, and the mood of the pre-practice activities did not suggest the C's were dispirited with one another following Friday's results.
Paul Pierce and Jeff Green engaged in a competition of one-on-one, with Pierce appearing to feed Green with different tips as he backed him down into the paint. Sasha Pavlovic and Nenad Krstic shot baskets at a nearby hoop together, before Pavlovic eventually went over to shuffle into the one-on-one rotation with Pierce and Green. Rookie Avery Bradley and Carlos Arroyo worked together on shooting drills at the other end of the floor with director of basketball developmentTyronn Lue. Glen Davis and president of basketball operations Danny Ainge conversed while riding stationary bikes in a far corner of the court. Even the injured engaged in spirited conversation, as Troy Murphy and Von Wafer sat on the side chatting with assistant coach Kevin Eastman and strength and conditioning coach Bryan Doo.
The mood was light, and an unknowing observer wouldn't have gotten the sense this club had just suffered difficult back-to-back home losses.
But that doesn't mean the issues have been entirely forgotten, either. The Celtics are willing to hold themselves accountable in their own ways, and it all comes back to the communication Allen alluded to.
"We talk after every game," Allen said. "We talk after every game, win or loss, so [Friday] night was no different. The last game we talked it was no different. I think these are the times where you just communicate and figure out what exactly you need to do to get better."
The communication between players isn't always the light and fluffy kind, though. The Celtics have said throughout the season that when the time does come to talk about certain issues, they choose to employ a rather brutal honesty with one another, but it's all in an effort to improve as a team.
"You can't lie and you do certain things when you know you're wrong," Allen said. "You know deep down inside you did something wrong and you're wrong about it, and sometimes it just hurts when somebody calls you out on it. I think we all know that about ourselves, when we did something, and sometimes you get put on film, sometimes coach may say it or a player may say it, but you just have to take whatever it is and just move forward, knowing it's constructive criticism."
Greg Payne is a student intern for ESPNBoston.com