Rapid reaction after the Boston Celtics defeated the Minnesota Timberwolves 85-82 Sunday night at the Target Center in Minneapolis:
The rundown: West's Play is On Point | Captain Pierce Carries 'Em | Layup Line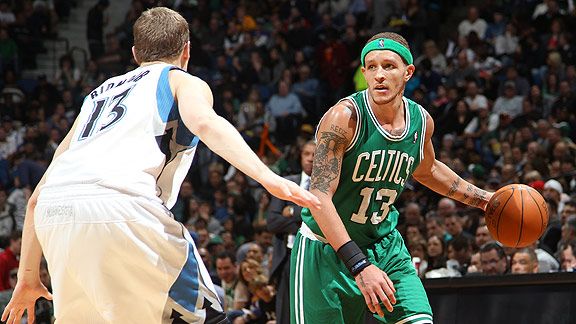 David Sherman/NBAE/Getty Images
Despite his own injury woes, Delonte West filled in admirably for Rajon Rondo.Two nights ago, Celtics coach Doc Rivers hesitated to put Delonte West on the floor over the final seven minutes in a loss to the Charlotte Bobcats because he had tweaked an already aggravated right ankle sprain. But when starting point guard Rajon Rondo aggravated a right pinkie injury, Rivers almost had no choice but to trot West out as a member of the starting lineup Sunday in Minnesota.
West responded by logging a season-high 30 minutes 57 seconds of action -- a stint nearly eight minutes longer than any of his other 14 appearances -- and quietly chipped in 8 points, 5 assists, 3 rebounds and 2 steals, while committing just one turnover as Boston's primary ball-handler.
It's fair to note that in 11 starts in place of Rondo, shipped-out guard Nate Robinson averaged 12.8 points, 4.1 assists and 3.1 rebounds with the first unit. Yes, playing with the Big Three has a way of making you look good.
But the intensity that West provided at both ends of the court -- particularly the defensive end -- really shined through for Boston. The fact that he did it on a gimpy ankle and after missing practice Saturday made the effort that much more impressive. The Celtics don't win this game without the little things West did.
And maybe nowhere was that more evident than with 28.9 seconds remaining. With Boston clinging to a three-point lead -- this after the Timberwolves rallied from a 25-point deficit and actually pulled ahead in the fourth quarter -- Kevin Garnett misfired on a 13-foot turnaround. West sneaked into a circle of white jerseys and snared an offensive rebound that prevented Minnesota from having a chance to tie. The Timberwolves ultimately fouled and Paul Pierce sank two freebies to ensure the Boston victory.
"[West] was terrific, especially early on," Rivers told reporters in Minnesota. "I thought he set the tone for us, a big steal. He's so tough, I mean, Delonte, again, I don't know how you describe his game. I've said that 100 times -- I couldn't tell you what he does great. He's a hell of a player to have on your basketball team because he's going to help you win a game."
West admitted after Friday's game that he overexerted himself during Thursday's practice, potentially aggravating bone chips in his still-mending right ankle that caused him to miss eight games spanning into March. He required hours of treatment before Friday's game just to allow him to get on the floor and, exacerbated by a slight twist against the Bobcats, Rivers hesitated to trot West back out on the floor late in the game.
Rivers said Sunday he knows he can rely on West moving forward, regardless of his injury woes.
"If I'm betting on a guy and his toughness -- playing through pain -- I've got a pretty good feeling that, in the playoffs, it'll never be a factor with [West]," Rivers said. "His [injuries are] not a concern."
From the beginning of the year, before suspension and injuries derailed him for 57 games, Rivers and his players talked about the role West would play as the leader of the second unit. On Sunday, in his first appearance with the first unit, West proved pivotal in preventing Boston from falling on its face yet again.
--CAPTAIN PIERCE SAVES SINKING SHIP--
The stat line doesn't do his performance justice: Pierce finished 6-of-16 shooting (37.5 percent) with 23 points, 7 rebounds, 6 turnovers, 4 fouls, 3 assists and a steal over 37:27. Beyond the points, it looks like a night of struggles, which it was for much of three quarters as Pierce connected on just three of his first nine shots, including just one of six triples. But with Boston improbably attempting to top Friday's disaster against the Bobcats, Pierce ensured no such reoccurrence in Minnesota.
Pierce scored 12 of Boston's 21 fourth-quarter points, converting three of seven shots and adding five free throws to prevent another game from slipping away. Twice after Minnesota rallied ahead, Pierce provided the bucket that put Boston back out front. But no sequence was more important than Pierce's back-to-back hoops that put the Celtics up 77-73 with 2:58 to go.
After Minnesota missed two chances to stretch a one-point lead, Pierce stormed to the basket, drawing a foul on Darko Milicic and converting the old-fashioned three-point play for a 75-73 advantage with 3:26 to go. The T-Wolves endured two more missed opportunities before Pierce came off a Garnett screen and drilled a 20-foot jumper from the right elbow for a four-point cushion. Minnesota never got closer than two the rest of the way.
--LAYUP LINE: KG'S RARE HOMECOMING; BIG THREE PICK UP THE SLACK--
* Due to injuries, Garnett has only played two other games in Minnesota, and they were modest efforts in wins (17 points and four rebounds in Nov. 2008; 12 points and 11 rebounds in Nov. 2009).
Garnett produced his 25th double-double of the season by registering 13 points and 13 rebounds to go along with five assists and two steals over 32:45. Garnett not only thrived on the glass (keeping Boston competitive there, even though Minnesota was without rebound machine Kevin Love), he generated a pair of signature 11-foot jumpers over the final 2:26 to keep the Timberwolves at bay.
* Boston's Big Three combined for 47 points, 22 rebounds, 10 assists and 3 steals, which was roughly half of each team total. You could nitpick that the trio of Pierce, Garnett and Ray Allen was only 15-of-37 shooting (40.5 percent), including 3-of-12 (25 percent) beyond the arc, but Pierce and Garnett in particular carried the team in a game it simply couldn't afford to drop.
* The Timberwolves won the battle of points in the paint (30-28) and second-chance points (21-16). Anthony Tolliver aided that effort off the Minnesota bench, scoring 16 points and grabbing 15 boards (four of which came on the offensive glass). Six of Michael Beasley's 10 caroms came on the offensive end as Minnesota seemingly tried to tip home every miss.
* The Celtics were clearly not invited to this block party: Minnesota finished with a 10-0 advantage in rejections.