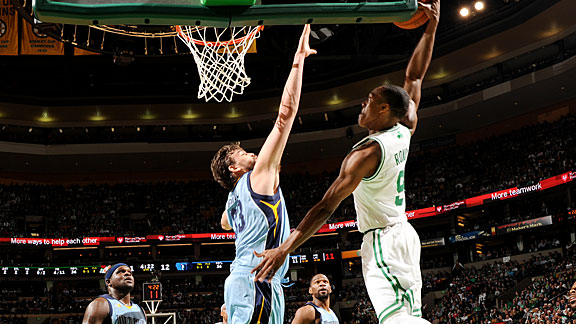 Brian Babineau/NBAE/Getty Images
Rajon Rondo has always looked to get points at the rim, but even that avenue has been diminished.Each Monday throughout the NBA season, ESPN Insider will investigate the latest trends in the NBA. Basketball Prospectus' Kevin Pelton is keeping an eye on all the numbers and will have a first look at how players, teams and the league as a whole are evolving. Here's a glimpse as he tackled Rajon Rondo's shooting slump in this week's edition:
TRENDING PLAYER: RONDO'S DECLINING SHOOTING

As the Celtics prepare for the playoffs, their biggest concern has to be the performance of their point guard. Rajon Rondo, so crucial to Boston's offense, has struggled in March, contributing to a 5-5 stretch over the last 10 games. It is difficult to overstate just how much Rondo's shooting has been off lately. In terms of five-game averages, every combination of Rondo's past eight games has been worse -- often substantially so -- than any stretch over the season's first four and a half months.

Insider Graphic

Since Game 50, Rondo's shooting has taken a dive.The notion that Rondo has been a different player since the Celtics traded his close friend Kendrick Perkins is an appealing storyline, but not one that is supported by the numbers. Rondo played well going into March, including a 16-point, 15-assist effort against the Phoenix Suns on March 2. The reality is, Rondo's shooting woes truly surfaced on March 13, when he missed five of his six attempts. Since then, Rondo's field goal percentage is a dismal 29.2 percent.
Click HERE

to read the full story.