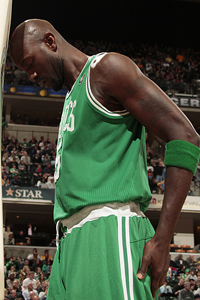 Ron Hoskins/NBAE/Getty Images
Foul trouble prevented Kevin Garnett from being a factor Monday in Indiana.Any chance Kevin Garnett had of establishing a rhythm in Monday's 107-100 loss to the Indiana Pacers was instantly extinguished with five minutes remaining in the opening quarter.
That's when Garnett was tagged with his second personal foul and was forced to retreat to the bench, where he'd spend much of his night. When Celtics coach Doc Rivers felt it safe to reinsert Garnett midway through the second quarter, he lasted little more than two minutes before he was whistled for his third personal while fighting for a rebound with Indiana's Jeff Foster. Garnett could only shake his head at the questionable call, as he retreated again to the pine.
The second half didn't offer much relief. Much like in the opening frame, Garnett played for nearly the first seven minutes of the third, before being called for another ticky-tack foul after bumping chests with Pacers forward Tyler Hansbrough on the defensive end (this after Garnett got bumped on his head going up for a shot at the other end of the floor).
With his rhythm all but sapped, Garnett headed back to the sideline yet again. Garnett played just 15 total minutes through the first three quarters, registering just six points and four rebounds (and finished with six points and six rebounds overall).
"The foul trouble just killed us, crushed us today," Rivers told reporters in Indiana. "I thought it really killed Kevin's rhythm. I just didn't think he had very good rhythm tonight because of it. It's tough. You've been around when the guy gets those two early fouls, he gets in, gets his third foul. He was never able to get rhythm."
Garnett returned in the fourth frame and played almost the final 10 minutes, but he wasn't the player the Celtics are accustomed to having on both sides of the ball. For the game, Garnett attempted only four field goals, which, apart from the Dec. 29 game against the Pistons, in which he left with a calf injury in the first quarter, matched his lowest number of field goal attempts in a game since he was a rookie during the 1995-1996 season.
Garnett finished scoreless in the fourth quarter, missing two shots and two free throws.
Having not been in the flow of the game for most of the night, Garnett fell victim to two very uncharacteristic plays as the Celtics were trying to rally late in the fourth quarter. He first tried forcing a pass out to Rajon Rondo near midcourt with just under five minutes to play, but it was poked away by Pacers points guard Darren Collison, who streaked in for the easy dunk and a six-point cushion.
Garnett followed that up with the two missed free throws, before, a short time later, throwing another bad pass that was picked off by Collison yet again. While Garnett hustled back and helped force an Indiana miss, his outlet pass to Ray Allen was off the mark, and Allen's attempt to save the ball went right into the hands of the Pacers.
"I think they were just trying to make something happen," Rivers said of the Garnett and Allen exchange. "It was a bad pass, bad catch, bad second pass, but, at that point, the horse was pretty much halfway out of the barn."
Without Garnett in the swing of things, the Celtics, as expected, weren't up to par on the defensive end of the floor. After Garnett exited in the first quarter, Indiana registered 14 points over the final five minutes, slicing a nine-point deficit to just three by the end of the frame. It was the same case in the second quarter, as the Pacers rattled off 15 points once Garnett left with his third foul to assume a 57-49 halftime lead.
Without Garnett and Nenad Krstic (who also dealt with foul trouble), the Celtics were forced to go to a smaller lineup for extended stretches, often resorting to Glen Davis at center. While Davis had one of his most productive nights, offensively, in recent memory, his lack of length gave him little chance of stopping Pacers center Roy Hibbert. Hibbert who stands at 7-foot-2, towered over the 6-foot-9 Davis, and poured in 19 of his game-high 26 points in the first half. Davis used his low center of gravity as best he could, but Hibbert routinely established deep post position, and was rewarded with easy looks at the basket. Hibbert accounted for seven of the Pacers' final 14 first quarter points and six of the Pacers' final 15 points in the second quarter.
"Well it's tough when you've got your bigs on the bench," Rivers said of defending Hibbert. "Kevin and Nenad were in foul trouble and so, that's where, tonight, you needed that extra big body."
Greg Payne is a student intern for ESPNBoston.com