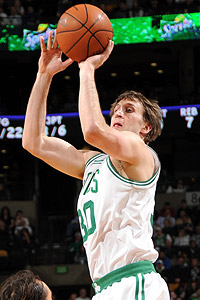 Brian Babineau/NBAE/Getty
Troy Murphy has struggled out of the gates and an injury hasn't helped matters.Forget the Kendrick Perkins trade. Boston made two other deadline deals aimed at shoring up the back end of its roster and it hasn't happened yet:
--C'S NEED MORE FROM END OF THE BENCH--
If the Boston Celtics are to make a late-season push for a top seed in the East -- something that would make the path back to the NBA Finals a little less daunting -- and preserve its core for the rigors of the postseason, it's up to the end of the Celtics' bench to establish itself over the final nine games.

It's painfully obvious Boston needs more from the end of its bench. These players weren't brought in with the idea of being playoff contributors -- save maybe for an emergency situation -- but they were pegged to help the Celtics get to the finish line of the regular season and earn a top seed in the process.