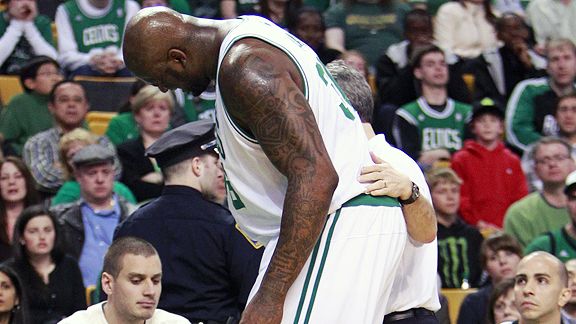 AP Photo/Michael Dwyer
In his first game in more than two months, Shaquille O'Neal limped off with a strained right calf.Shaquille O'Neal's long-awaited return was brief -- he left with a right calf strain -- but it showed how important he could be for the playoffs writes Peter May:
--MAY: GLIMPSE OF O'NEAL TEASES CELTICS--
The long-awaited return of Shaquille O'Neal enraptured the capacity crowd at TD Garden and appeared to bode well for the Boston Celtics as they readied for a playoff push. Absent since Feb. 1, a stretch of 27 games, O'Neal returned to action Sunday night against the Detroit Pistons and looked frisky and ready. Then he promptly returned to inaction. The joyous mood came to a stunning halt when O'Neal came up limping simply running down the floor in the first minute of the second quarter. He had trouble supporting himself as he headed to the bench, using a padded table to avoid falling down. He was clearly in discomfort.
* More on Shaq: O'Neal injures calf during return to action