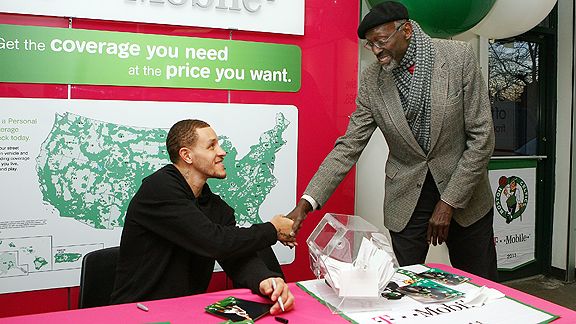 Gail Oskin/Getty Images for T-Mobile
Celtics guard Delonte West and Satch Sanders together at a team appearance.WALTHAM, Mass. -- After winning eight championships in a 13-year career, Celtics legend Tom "Satch" Sanders earned basketball's top honor when he was elected to the Naismith Memorial Basketball Hall of Fame Monday.
Sanders joins a 2011 class that includes Dennis Rodman, Chris Mullin, Tara VanDerveer, Tex Winter, Herb Magee, Artis Gilmore, Arvydas Sabonis, Teresa Edwards, and Reece "Goose" Tatum.
Sanders, a 6-foot-6 forward whose No. 16 jersey hangs in the rafters at the Garden, averaged only 9.6 points and 6.3 rebounds over 24.2 minutes per game during his career. But if those eight world titles weren't enough to cement his spot in Springfield, allow former teammate (and Hall of Famer) Tommy Heinsohn to tell you why he deserves enshrinement.
"Well, Satch made my life easier, because he got all the tough guys to defend, and I only had to worry about them after he got in foul trouble, if he got in foul trouble," said Heinsohn. "It let me concentrate on what I was good at: Offensive and rebounding. So he took a load off of me. But he was perfectly capable of scoring 20 points a game, also. He was a very good offensive player.
"In the course of things, people try and quantify whether a guy should be in the Hall of Fame, because of his stats. Stats mean nothing, and I think right now, this is proof that he was a winner and he contributed mightily to a winning team and he contributed to the sport big time with his player programs for the NBA."
And just how good was Sanders' defense?
"Satch played all the tough guys, bigger guys, smaller guys," said Heinsohn. "He had to play guys like Elgin Baylor and Bob Pettit and Cliff Hagan and Paul Arizin -- all top scorers. Invariably, he wouldn't hold them scoreless, but they had to work, which is the prime thing that you try and make scorers have to do. And more often than not he held them below their average, which is an accomplishment in itself."
Sanders, a familiar face around the Celtics' facilities, has left an impression on modern players.
"Well, I appreciate it because he's such a good guy," said Ray Allen. "He's very humble. As I retire and move into raising my kids and wanting to be around the organization, I hope that the players that are here then take care of me and treat me with respect just the same. So I make sure that I always, when I see him, we have conversations and just ask him how his time was when he was here, because he was just as athletic as we are now. It always reminds you that your time does pass, and when it passes you've got to make sure that you've created [strong] relationships that you can still come back and enjoy them in the future."