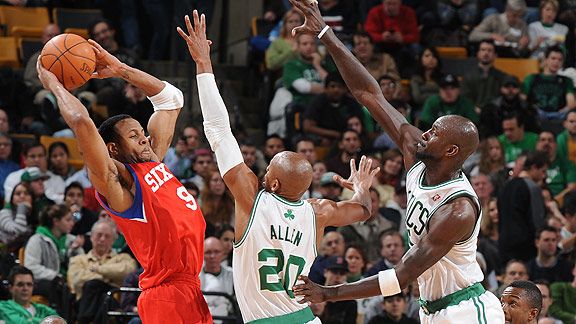 Brian Babineau/NBAE/Getty Images
The 76ers kick off a week that could serve as a postseason appetizer for Boston.In a week of potential playoff foes, beginning with the Philadelphia 76ers on Tuesday, Ray Allen hopes the Boston Celtics increase their intensity:
--C'S WEEK SHOULD HAVE A PLAYOFF FEEL--
Call it a postseason appetizer. During a four-game stretch over the next six days, the Boston Celtics will play the three Eastern Conference teams they likely will have to beat in order to get back to the NBA Finals.

Unlike the postseason, Boston doesn't necessarily have to win these three games. Of course, it wouldn't hurt their cause, given the jockeying for postseason seeding.

If the playoffs started Monday and top seeds won out, the Celtics' projected playoff path would go through the Philadelphia 76ers, Miami Heat and Chicago Bulls. Boston hosts the 76ers on Tuesday before visiting the Bulls on Thursday and the Heat on Sunday.

Instead of coasting to the regular-season finish line, Boston must joust with three of the top six teams in the East (the current No. 7, the New York Knicks, loom in the regular-season finale April 13). For a team that's played to the level of its competition, that might be the best thing for these roller-coaster Celtics.