Nick Friedell/ESPN Chicago
Kevin Garnett presents a check to the Chicago Boys & Girls Club as part of his promotional visit.Our friends at ESPNChicago.com caught up with Kevin Garnett at a promotional event in Chicago on Wednesday night, and the Celtics' emotional leader wasn't downplaying the importance of the No. 1 seed in the East on the eve of the showdown between the C's and Bulls, the conference's top two teams.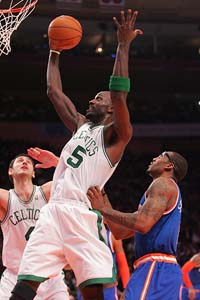 Jeyhoun Allebaugh/NBAE/Getty
Kevin Garnett acknowledges that "everybody wants to be" the No. 1 seed."It always matters," Garnett said of playoff seeding. "As much as people say it [doesn't], it always matters. If it didn't matter, then it wouldn't be a one, two, three, four or five. It wouldn't be a sequence. But to be honest with you, everybody wants to be number one. Wherever we're at is going to be wherever we're at. Whether we're at one or two [seed], we're still going to have to play and still going to have to deal with some type of adversity or something."
Garnett and his Celtics trail the Bulls by three games heading into Thursday night's showdown.

Garnett also had high praise for Bulls point guard, and MVP favorite, Derrick Rose as well as Bulls coach Tom Thibodeau, an assistant with the Celtics before moving to Chicago this season.

"Oh my God. Derrick Rose has taken probably 100 notches of a takeoff from where he started," Garnett said. "Nothing has shocked me about anything he's obtained. And the fact that he's taken his team, put it on his back, his progression, the sense that he's still humble to it all, the fact that he's taken his team to the next level. Tom [Thibodeau] putting the guys around him, some quality guys, a good combination of not just good, but older vets, and some younger players around him.

"They look like they play really free minded and knowing Thibs and knowing how he is, I didn't expect anything less than what he's done. So yeah, I'm happy for Derrick, too. He's one of my favorite guys to sit back and watch. A beast to play against, but [he's] one of my favorite guys [in] how he approaches the game."

On Thibodeau: "I think one thing Tom and I share is our passion for the game. Our passion for defense. Our passion for the detail of the game. The minute I knew he was going to be not a good head coach, but a great head coach, was the minute I walked in and we just hit it off. I think the chemistry from day one with me and Tom has always been very high quality and [we're] very appreciative in a lot of respects for one another."

Garnett admitted that he is looking forward to the possibility of facing the Bulls in the Eastern Conference playoffs.

"I look forward to [it] not only because they're the young up and coming team, but they're trying to establish something here," he said. "We're trying to establish something. The competition is what fuels me at the end of the day, so it's cool."