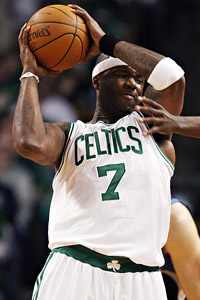 Elsa/Getty Images
Jermaine O'Neal is back in Chicago, this time to contribute on the floor for the Celtics.When the Celtics touched down in Chicago on Wednesday, it marked a return to the Windy City for Jermaine O'Neal, who just 11 days ago was finishing up a grueling rehabilitation process there in the aftermath of left knee surgery.
Clouds of uncertainty surrounded O'Neal as he returned to Boston's lineup on March 31 in a 107-97 victory over the San Antonio Spurs, for it was unclear just how much he would be able to contribute after missing more than two months of action. But O'Neal's play in his first four games back has been encouraging, and better yet, he never fell victim to the pressure of expectations.
"Is coming off of surgery to finish a job really pressure?" O'Neal asked after the Celtics' win over the 76ers Tuesday. "A state in Indiana really [jumped] on my back to see if I could carry a team and I didn't really see that as pressure. It's all a challenge. If you see it as pressure then you're not built for it."
Speaking of being built for it, O'Neal built himself back up during his rehab period, reaching a level of physical comfort he hasn't experienced in years.
"The difference is in this league, the people who are in it for the wrong reason, would have laid down," said O'Neal. "They would have laid down, said, 'OK, I had knee surgery, my year's over.' I fought it. I fought it before the surgery. I didn't want to do it. I was out there on one leg basically, fighting the swelling, because I'm prideful. I'm prideful and I'm dedicated to the job that has been given to me. I've never been one to take the easy way out."
Now, with his body in the place it needs to be, O'Neal is focused on one goal, and one goal only: Helping the Celtics capture another championship.
"It's whatever the team needs," said O'Neal. "I'm not in a position in my life, in my career any more, where it's about numbers. I gave that up when I decided to leave Indiana. I felt like it was about winning a championship. It wasn't about money, it wasn't about All-Star games, [or] anything [else]. Some guys sit in this situation and say, 'Alright, I'm going to go for the numbers every night, to see what I can get out of it.' You can get all the numbers, then you look at it, and you ask yourself, 15, 16 years later, 'What did I really get out of it?'
"This is special. I'm going to be honest. All these years of playing against the Celtics, I always walked in and looked at the banners and looked at the following that this city has had and you feel the energy when you walk into the building. Now I'm on the opposite end of the spectrum, where I'm a part of it, and I might not get this [any] more. All these years, I've accomplished a lot of things in my career and it doesn't really matter. This is what matters; the champagne, confetti, tears. That's what matters to me. I'm not about to let [anything], surgery, anything, take away, at least that opportunity."
O'Neal's no stranger to the postseason, having made it there in 12 of his first 14 seasons, including a stretch of 10-consecutive seasons spanning from 1997 through 2006. But despite his strong postseason resume, O'Neal's longest playoff runs have ended in the conference finals -- most recently in 2004 as a member of the Pacers. O'Neal wants the chance to fight for a championship, and he hopes it comes during his first season as a member of the Celtics.
"I watch almost every championship game at different levels, whether it's baseball, football, college, whatever," said O'Neal. "I watch the confetti, I watch the emotions, I watch the tears, because it takes a lot. A lot goes into it. There's a lot of things that [people] don't see on a day-to-day basis that's hard for guys, that's hard for athletes. And you don't get that opportunity.
"Me and Reggie [Miller] talked a little bit about that this year, about just having the opportunity. He's one of the greatest guys in the world, one of the best players of all time, and he didn't get an opportunity to win. I want that opportunity.
"A lot of guys play this game and never get this opportunity, so I'm just waiting on that. And, God willing, it happens this year."
Greg Payne is a student intern for ESPNBoston.com