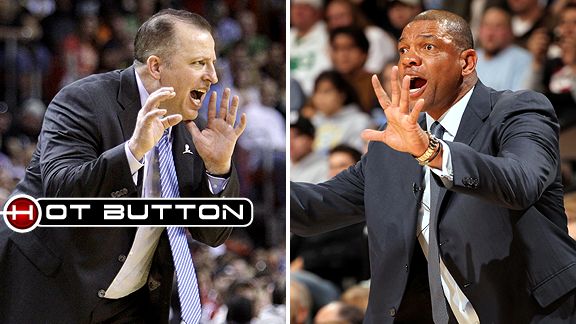 AP Photo/Getty Images

Old friend Tom Thibodeau has Doc Rivers and the Celtics chasing his Bulls.

The Celtics visit the Bulls in a battle between the top two teams in the East. In this week's Hot Button poll, we ask which contender has more at stake on Thursday?
--FORSBERG: CELTICS CAN'T LET 2-SEED SLIP AWAY--
And don't discount Boston's desire to win the season series. The Celtics wouldn't mind atoning for a putrid effort on the second night of a back-to-back in Chicago in January. Seeing old friends like Tom Thibodeau and Brian Scalabrine always provides a little motivation -- just as seeing Joakim Noah ought to give Kevin Garnett a spark and Rajon Rondo will be a little extra amped to match up with Derrick Rose.
--GREENBERG: BULLS NEED WIN FOR PLAYOFF MOMENTUM--
It sounds like coachspeak when Derrick Rose talks about a 97-94 win over Phoenix like a loss, but he isn't humble in the way some might think. Rose is cold-blooded when it comes to basketball and he's thinking about a championship and what it takes to get there. He can see the slippage on defense lately, the blips in intensity.
Click HERE to vote in this week's Hot Button.