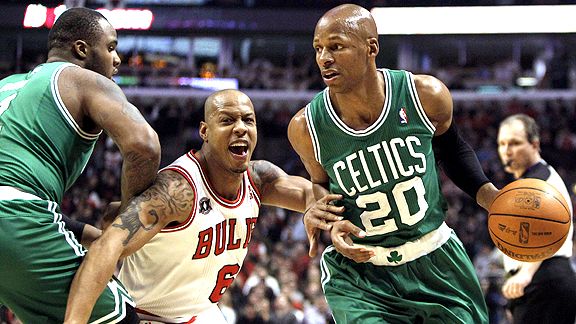 AP Photo/Nam Y. Huh
Ray Allen and the Celtics couldn't get past the Bulls.CHICAGO -- Rapid reaction after the Chicago Bulls defeated the Boston Celtics 97-81 Thursday night at the United Center:


HOW THE GAME WAS WON
Serenaded by MVP chants throughout the night, Chicago point guard Derrick Rose poured in 30 points on 9-of-16 shooting with eight assists, five rebounds and two steals over 39 minutes to pace a Bulls squad that all but wrapped up the Eastern Conference's top seed. Luol Deng added 23 points on 9-of-18 shooting with six rebounds and two blocks. Paul Pierce chipped in a team-high 15 points for Boston, whose starters combined for a mere 44 points overall.
TURNING POINT
The Celtics whittled the Bulls' lead to three with three minutes to play in the third quarter, but Chicago responded by scoring seven points in a 53-second span -- Deng sandwiching a 3-pointer and a layup around a Carlos Boozer layup -- pushing the lead to double digits. Rose added a triple before the end of the frame and Rajon Rondo missed a layup at the buzzer sending the Bulls into the break on top, 71-60.
STAT OF THE GAME
The Celtics essentially went an entire quarter without an assist. After Rondo assisted on a Ray Allen alley-oop with 3:35 to play in the third quarter, Boston didn't get another helper until Kevin Garnett fed Pierce on a 25-foot 3-pointer with 3:34 to go in the game.
UNSUNG HERO
Keith Bogans should never outduel Allen in a matchup of starting shooting guards, but that's what happened Thursday. Bogans not only got in Allen's head with some physical defense, but Bogans made two of three 3-pointers while chipping in six points over 17 minutes. Allen finished with seven points on 3-of-11 shooting over 38 minutes, missing all three trifectas he put up.
WHAT IT MEANS
Any miracle charges at the No. 1 seed that the Celtics may have dreamed about have evaporated with Thursday's loss. No shame in that, neither Boston nor Miami were going to catch Chicago with the way they've played late in the season. Now the Celtics and Heat will joust for the No. 2 seed with matching records and four games to play, including Sunday's head-to-head battle on South Beach. The Celtics played poorly for the second straight visit to Chicago and, if these teams see each other again in the Eastern Conference finals, Boston is going to have to win at least one game here. But let's not get too far ahead of ourselves. The Celtics return home Friday night to host the Wizards in the tail end of a back-to-back.